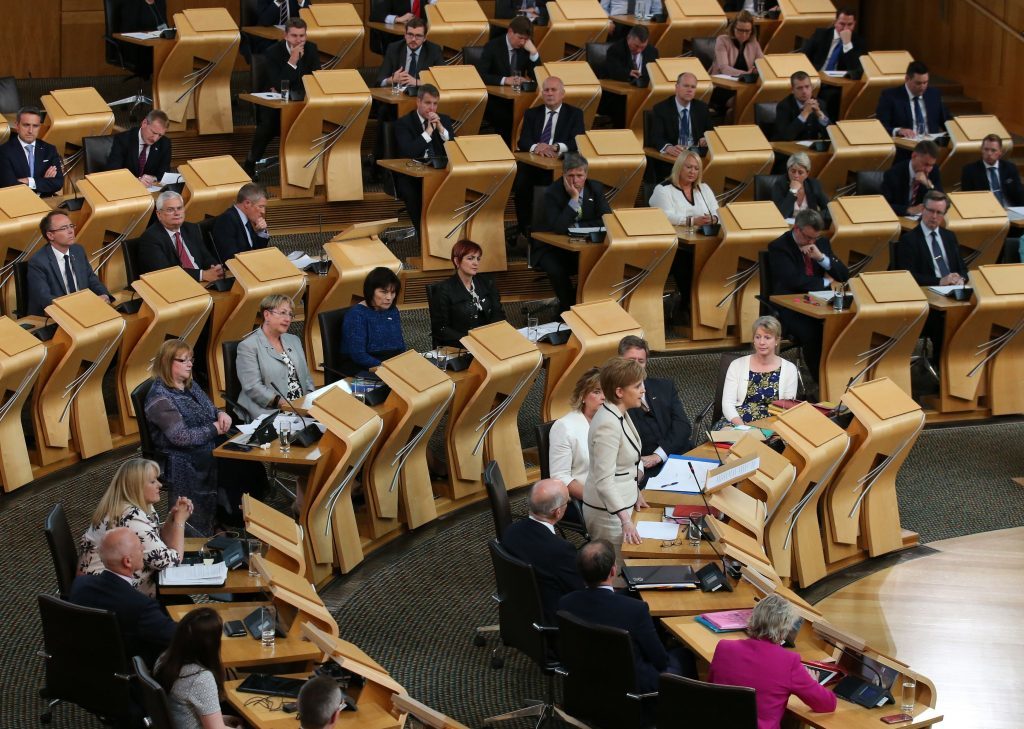 The Scottish Parliament has voted in favour of ripping up controversial legislation that targets football fans.
Ministers suffered the defeat in Holyrood on Thursday when opposition parties united against the Offensive Behaviour at Football Act.
MSPs backed the member's bill from Scottish Labour's James Kelly to repeal the legislation by 65 votes to 61.
The SNP said "Scotland's fight against sectarianism has been undermined" by the decision.
The proposed legislation will now be scrutinised by MSPs at committee level before a final vote on repealing the original law takes place.
Mr Kelly told Holyrood the 2012 law is "so discredited, so weak and needs to be taken of the statute book".
"Parliament has now made the clear decision to back the repeal of the Football Act," he said after the vote.
"It is discredited legislation which has failed to make any progress in tackling sectarianism, while at the same time dividing fans and the police."
He called on the SNP, who pushed the existing legislation through parliament when it had a majority, to "listen to the will of Parliament and get behind repeal".
The 2012 Act criminalises offensive and threatening behaviour, including inciting religious hatred, at or in connection with football matches.
The legislation has been branded illiberal by opponents for only targeting football fans.
Campaigners say laws already exist to tackle the criminal behaviour it covers.
James Dornan, the SNP MSP, accused Mr Kelly of "effectively giving the green light to sectarian and offensive behaviour".
"The Act is backed by organisations representing the very vulnerable groups it is designed to protect – many of whom are critical of Labour's irresponsible attempts to repeal the Act," he added.
Liam Kerr, for the Scottish Conservatives, said the Act has been a "misguided and discredited law from the start".
"The SNP should have realised this long before now.
"No-one took it seriously, police officers didn't like enforcing it, and sheriffs laughed it out of courtrooms.
"There's no question sectarianism is a problem which needs tackled, but this legislation was not the way to do it."
The Scottish Government's community safety minister Annabelle Ewing said is a "sad day" for the country, but added they "must respect the will of Parliament".
"It's important now that all parties build consensus on the next steps required to mitigate the impact of this decision on vulnerable communities," Ms Ewing said.