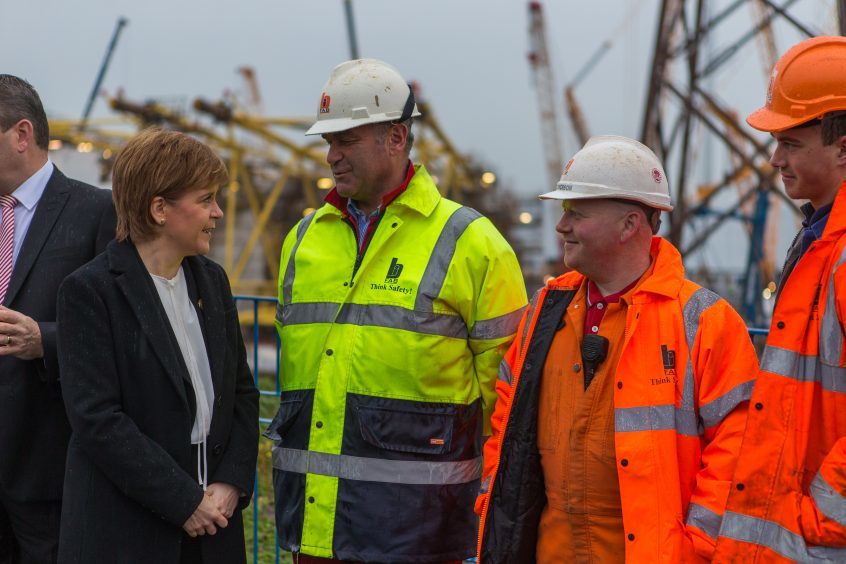 Nicola Sturgeon is leading talks with ministers on a potential new rescue package for under-threat jobs at BiFab.
The First Minister has been called on to intervene as work dries up at the manufacturer's yards in Fife and Lewis.
Ahead of a meeting on the ongoing BiFab crisis, Ms Sturgeon vowed to do "everything they can" to protect jobs.
The fabricator, whose 1,400 workforce is mostly based in Methil, was on the brink of collapse three times in November.
SNP ministers brokered a deal that guarantees work through the Beatrice offshore windfarm in the Moray Firth – but only until April.
Claire Baker, a Fife MSP for Labour, asked Ms Sturgeon at FMQs on Thursday what the government is doing to safeguard jobs.
"I appreciate the important role the Scottish Government played in staving off administration last year," said Ms Baker.
"But the yards are now coming to the end of the current Beatrice contract and there are concerns of the workforce's future if new contracts are not secured."
Ms Sturgeon replied: "The Scottish Government will do everything we can, as we have done in past months, to support the future of BiFab.
"I will be meeting with (economy secretary) Keith Brown this afternoon to discuss the latest situation and to look at the support the Scottish Government is able to give."
She said despite securing the short-term future of BiFab last year, there is "still significant work to do" in the longer term.