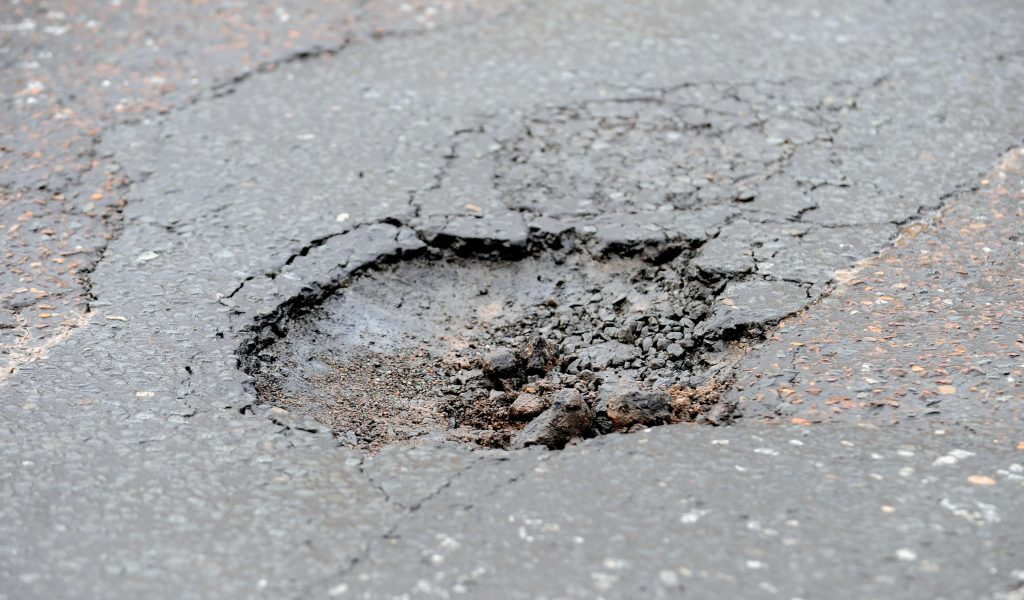 Scotland's roads are bearing the brunt of cuts to council budgets, new data shows.
Dundee has slashed spending on maintaining the network by nearly a half over the last seven years, as councillors try to shield children and vulnerable adults from the cash squeeze.
Funding for Scottish councils has reduced by 7.6% since 2010/11, according to the Local Government Benchmarking Framework report, which amounts to an £800m cut in real terms.
Reacting to the report, COSLA, the umbrella body for councils, said local authorities have managed to minimise the impact on services of shrinking budgets by dipping into dwindling reserves.
It warns a time lag means the true impact of budget cuts has not yet come to bear.
Dundee reduced its roads spending by 48% between 2010/11 and 2016/17, from £19m to £10m, compared with a 20% cut nationally.
Fife's roads expenditure has fallen by 37% over that period, while Angus' was broadly the same.
Spending on maintaining the street system in Perth & Kinross has increased by more than a third (36%).
Alison Evison, COSLA's president, said what councils are "continuing to achieve for communities is impressive in spite of the financial challenges".
But she added the report shows how the cuts have "really started to bite", with non-statutory services like road maintenance suffering.
"Local government cannot continue to be the poor relation of the public sector and the fact that roads spending is down 20% will not have gone unnoticed," she said.
Colin Smyth, for Scottish Labour, said: "Local authorities have been forced to pass on SNP government cuts by slashing the road maintenance budget by a fifth.
"As we saw earlier this year, that can cause chaos on our roads, with streets and pavements being left ungritted."
A spokesman for Dundee City Council said they have made "considerable savings" in roads maintenance "while continuing to improve the level of service to the people of Dundee".
"According to the most recent statistics from 2016/17 the condition of our road network remains in the top half of Scottish local council areas," the spokesman added.
Across Tayside and Fife, councils reduced spending on education by 1%, whereas spending on looked after children and social care increased by 59% and 4% respectively.
The Scottish Government insists it has treated councils fairly despite cuts from Westminster.
Derek Mackay, the Finance Secretary, found an extra £160m to wipe out his proposed cut to the local government revenue grant for 2018/19.
He has also pointed to councils' spending power being increased through health and social care integration, cash going straight to headteachers and handing town halls the power to raise council tax.
The report also revealed the attainment gap between the most deprived pupils in Scotland and their more affluent peers is closing.
An overall educational achievement score for S4-S6 students has risen by 15.1% between 2011/12 and 2016/17.
However, the study by the Improvement Service warned that "major inequalities" between deprived and well-off pupils remain.