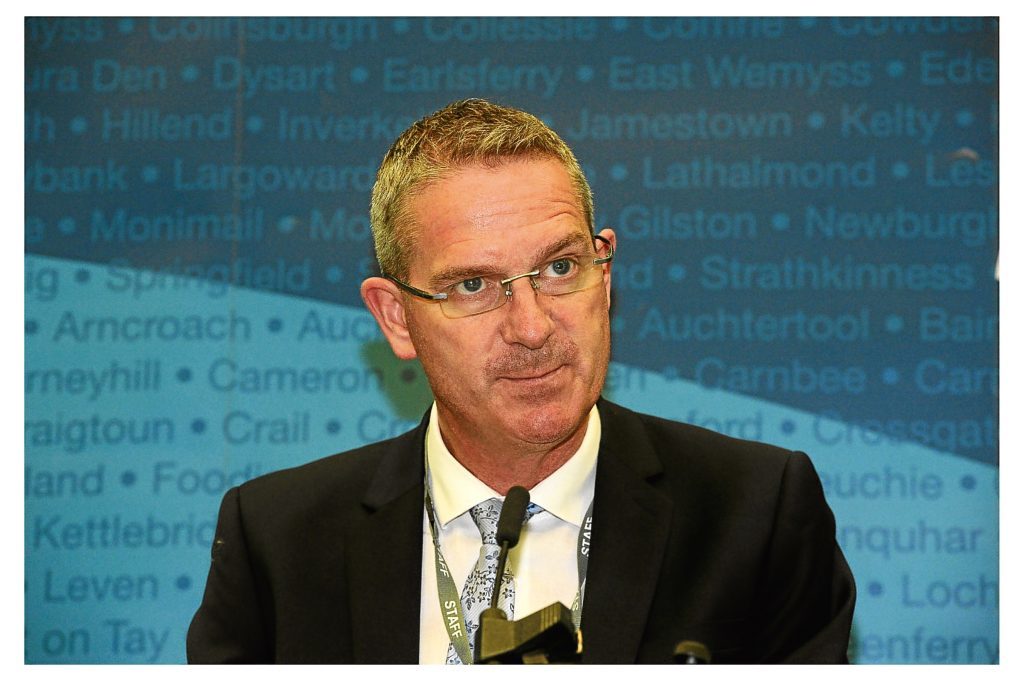 Four local government executives in Tayside and Fife are on more than £150,000 a year, a study has found.
Fife Council boss Steve Grimmond was the top town hall earner in Courier Country for 2016-17, with a remuneration package worth £207,190, according to the annual rich list compiled by the Taxpayers' Alliance.
The hefty pay packets emerge as residents across Scotland are facing a 3% council tax hike and a decline in satisfaction levels for basic services, such as schooling and bin collections.
However, there is evidence of pay restraint as the number of senior council officers in Tayside and Fife on more than £100,000 fell by a third on the previous year, from 34 to 23.
Perth and Kinross Council started its search for a new chief executive on Tuesday with an advertised salary of £128,522, which is down on the £135,121 the incumbent Bernadette Malone was awarded in 2016-17.
Theresa May is on a £150,000 salary, but has many perks including free accommodation and a large pension.
Bill Bowman, the Scottish Conservative MSP, said: "Clearly, our local councils will say they have to compete for talent and want to recruit top people into these senior posts.
"However, the public – and indeed many council workers – will view these salaries as excessive."
He added: "Given the public sector pay cap has only just been lifted after years of restraint, local authorities must ensure they are spending wisely and getting the best value for taxpayers' money."
As well as his salary and pension contributions, Mr Grimmond received £23,508 as the returning officer for elections.
Jacqui Cameron, HR service manager at Fife Council, said chief executive salaries were set under a national agreement by the council umbrella body COSLA.
"Fife Council, which has over 17,000 employees, has only five members of staff with salaries over £100,000," she added.
"They are the council's executive team. Their salaries are a matter of public record."
A spokesman for Dundee City Council said: "The salary of senior employees is set by reference to national agreements.
"Those of executive directors are determined with reference to the chief executive's salary and the duties and responsibilities of these posts."
TaxPayers' Alliance chief executive John O'Connell said: "After years of excess, councils have woken up to reality and are slimming down senior management teams.
"It's good news for taxpayers that the number of very high earners is falling, but there are still far too many astronomical pay-offs for those leaving employment.
"More than £1 million was spent getting rid of just five Scottish town hall staff in 2017 despite the government's supposed clampdown on golden goodbyes."
The total 2016-17 remuneration packages for council chief executives were £158,099 for the then Angus boss Richard Stiff, £177,074 for Dundee's David Martin and £156,754 for Bernadette Malone at Perth & Kinross.
Across Scotland, 222 council officers received remuneration totalling more than £100,000, 10 down on the previous year.