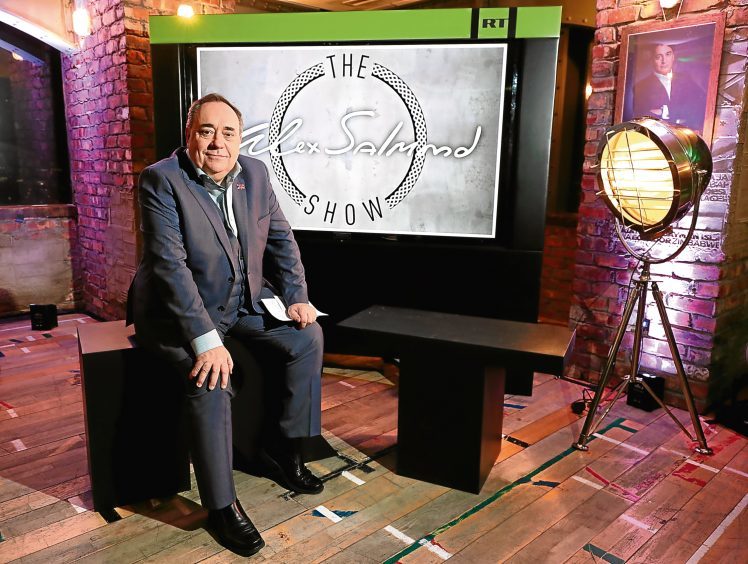 Alex Salmond breached broadcasting regulations by reading out tweets crafted by people with close ties to his programme, the regulator has ruled.
Ofcom has found the RT show "materially misled" viewers by presenting the questions as public contributions.
The so-called viewer questions to the former First Minister included one from a friend of an Alex Salmond Show cameraman, an employment acquaintance of Mr Salmond's, a freelance hairdresser and from the series director, which producers said was accidentally left in from rehearsal.
The ruling, which was published on Monday, said: "Ofcom considered that viewers would have been under the impression that the four questions quoted by Mr Salmond had originated from members of the public wholly unconnected with the programme or with him, when this was not, in fact, the case.
"The failure to disclose this information meant that viewers were misled.
"Because viewer trust in this current affairs programme would have been undermined, we considered that this was materially misleading."
Slainte Media, which produces the show, argued that it was "one inadvertent mistake" and said there was no attempt to mislead, "nor can it be seriously argued that there was".
The company said there was no harm or offence caused, pointing to the sole complaint it generated, which it said was "clearly misconceived."
Rachael Hamilton, for the Scottish Conservatives, said: "It's no surprise to see Alex Salmond's Russian propaganda show carpeted for something it did almost before it had even begun.
"The content is laughably contrived, and I'm glad Ofcom has recognised that in this ruling.
"The longer Mr Salmond continues to front this RT programme, the more damage he does to his legacy as First Minister."
Ofcom ruled that the allegations laid out in the the complaint – that the questions were "invented" and were Brexit-related – were not true.
A spokeswoman for Slainte Media said they welcomed that assessment, but said the overall decision is "out of all proportion to this very minor matter".
"It seems extraordinary that, having dismissed the basis of the only complaint which they actually received Ofcom then finds a different reason for an 'in breach' finding, even if it is one which carries no sanction," the spokeswoman said.
"For the very first programme of a recorded series there were obviously no existing viewers or live tweets to draw on in order to illustrate the audience participation section.
"Thus we used comment from a variety of sources for the six questions."
The spokeswoman added: "This ruling is despite the fact that the content of the questions were basically light-hearted and clearly pursued no particular agenda nor could possibly have caused any offence."