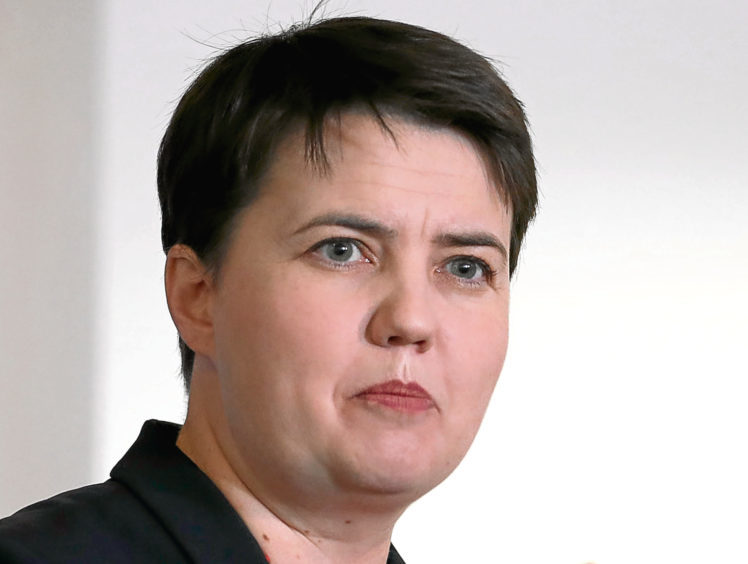 Ruth Davidson uncovered her self-harming scars as the Scottish Conservative leader said she values her mental health too much to be Prime Minister.
The former Fife schoolgirl said she would never bid for Number 10 – the first time she has publicly ruled out taking the job.
Ms Davidson, who went to Buckhaven High School, spoke about being tormented by depression as a teenager, which led her to self-harm and suicidal thoughts.
The mum-to-be said another reason she could not lead the Tories in Westminster is it would involve being away from her family.
Asked if she would ever run, Ms Davidson told the Sunday Times: "No. I value my relationship and my mental health too much for it. I will not be a candidate.
"You have to want it, and I don't want to be prime minister".
She added: "On a human level, the idea that I would have a child in Edinburgh and then immediately go down to London four days a week and leave it up here is offensive, actually offensive to me."
Ms Davidson, 39, has been widely tipped as a future UK Conservative leader and has previously stopped short of explicitly ruling herself out.
In extracts from her memoirs, Ms Davidson, who grew up in Lundin Links, explains how the suicide of a boy from her village when she was 17 sent her into a "tailspin".
She describes in the book how she started cutting herself, punching walls and drinking "far too much".
A year later she was diagnosed with clinical depression but the medication gave her "desperate, dark, terrible dreams".
"I started having suicidal thoughts," she wrote.
Ms Davidson said she was still worried about returning to the "psychological place I once inhabited" and uses  "structure, exercise, forward momentum, measurable outcomes" to avoid her anxiety escalating.
The Edinburgh MSP announced in April she and her partner Jen Wilson are expecting a baby after having IVF treatment.
The due date is next month and Ms Davidson plans to take four or five months of maternity leave.