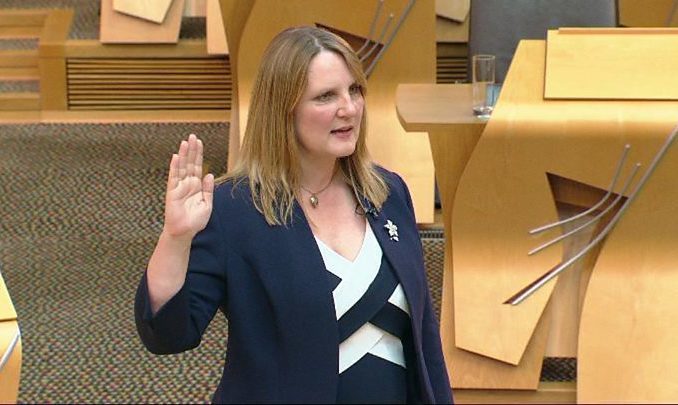 A Tory MSP has been criticised for saying benefits claimants should not get to choose how many children they have.
Michelle Ballantyne, who is the Scottish Conservatives' social security spokeswoman, told Holyrood it would be unfair for welfare recipients to have "as many children as they like" while those who "pay their way" are forced to limit the size of their families.
Scottish Labour leader Richard Leonard described the remarks, which were made in defence of the two-child welfare cap, as "nasty and archaic".
"These comments by Michelle Ballantyne are abhorrent and show the true views held by senior Tory MSPs," he said.
Ms Ballantyne, a South Scotland MSP who said she was proud of the UK Government's welfare reforms, was asked whether that sense of pride extended to the two-child limit and associated "rape clause", which restrict payments for parents unless they can prove any subsequent child was conceived through rape.
The Scottish Conservative, who has refused to apologise, replied: "The two-child limit is about fairness.
"It is fair that people on benefit cannot have as many children as they like, while people who work and pay their way and don't claim benefit have to make decisions about the number of children they can have.
"Fairness is fairness to everybody, not to one part of the community."
These comments by Michelle Ballantyne are abhorrent and show the true views held by senior Tory MSPs – nasty and archaic. pic.twitter.com/IQgrK5arMb

— Richard Leonard (@LabourRichard) October 24, 2018
A Scottish Conservative spokesman said: "Immediately after the debate Michelle clarified the point, and acknowledged the words didn't come out very well in the chamber.
"That point being people both in and out of work have to make the same considerations when it comes to family."
The comments were made on Wednesday during a debate on austerity in the Scottish Parliament, in which Ms Ballantyne defended the roll-out of Universal Credit, but accepted there were flaws.
The two-child cap, which was introduced in April 2017, applies to child tax credits and the child element of Universal Credit.
Earlier, Theresa May was challenged at Prime Minister's Questions on the roll-out of UC, which has been mired by delays in people receiving the money they are entitled to.
She told MPs that UC has helped 200,000 more people into work and 700,000 get extra money they are entitled to.
The PM added: "This is a system that helps people into work and makes sure work pays."
Labour leader Jeremy Corbyn said the "reality of universal credit" is people losing their homes and being forced into foodbank donations.
Nicola Sturgeon told a Holyrood committee that Universal Credit is an "unfolding disaster".
The regime, which merges six welfare payments into one, has been rolled out across the UK since 2013, starting with new claimants.
From July 2019 around two million people already receiving the old benefits will be moved onto UC, in a "managed migration" which is not due for completion until 2023.
Labour and SNP politicians are among those who say they have been inundated with complaints from their constituents about the system, particularly over payment delays sending households into financial crisis.
In written evidence to a Holyrood committee, the Menu for Change charity says its research in Dundee, Fife and Ayrshire has backed up findings from Oxford University and the Trussell Trust that one in six foodbank users is from a working household.
Meanwhile, a Tory MSP raised concerns about the impact of the benefits roll-out in Scotland in a letter to a national newspaper.
Annie Wells, who represents Glasgow, said it "runs the risk of failing those who the system set out to support".
Dundee East MSP Shona Robison called on the UK Government to use next week's Budget to stop the damage that is being done to communities.
"Families could be pushed over the breadline by these cuts, with the move to Universal Credit costing some households £2,400 a year," the SNP politician said.
"Philip Hammond must use his Budget to pause the roll-out and fix this broken system."