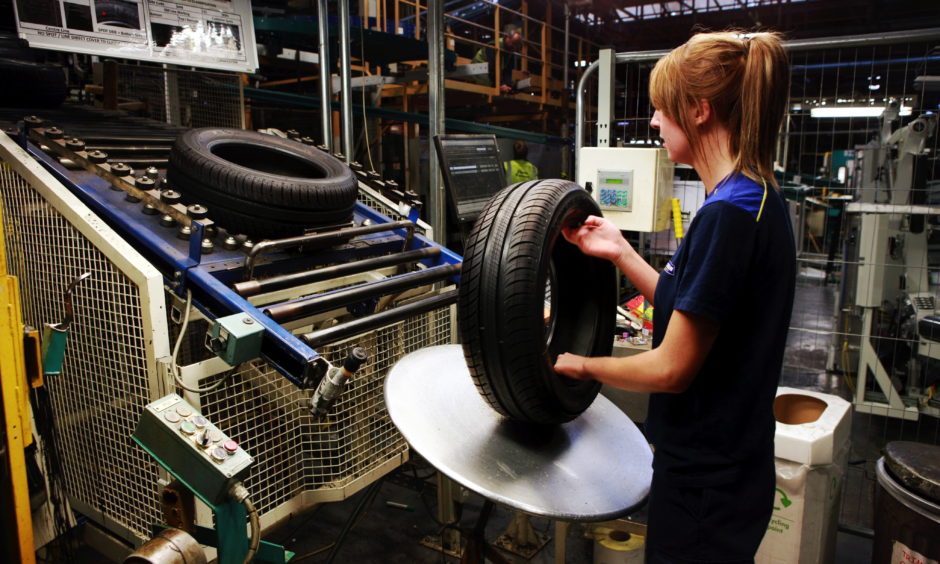 Finding work in Dundee is becoming a "privilege rather than an expectation", according to an MSP.
Job cuts at Michelin, HMRC and NHS Tayside – and fears of redundancies at Dundee Council – are compounding "terrible employment figures" in the city, said Scottish Labour's Jenny Marra.
Labour led an economy debate in Holyrood on Wednesday in which leader Richard Leonard described manufacturing decline as "the unacceptable face of capitalism".
Nearly 850 jobs are going at Michelin's factory in Dundee ahead of its 2020 closure, while NHS Tayside has a proposal to reduce the workforce by 10% over the coming years.
Public sector jobs are also at risk from the estimated £18m of cuts required at Dundee City Council.
Ms Marra, a North-East MSP, said: "We need a much wider economic plan for Dundee where, I hesitate to say this presiding officer, but work is fast becoming a privilege rather than an expectation.
"We need a proper economic strategy, one particularly for Dundee.
"We have terrible employment figures. We have one of the lowest male employment rates in Scotland and the highest proportion of males in part-time work."
Shona Robison, the Dundee East MSP, said the city's SNP council is "working extremely hard to avoid compulsory redundancies".
The former minister called on the Scottish Government to deliver strategic investment in Dundee in renewable energy and oil and gas decommissioning.
The SNP MSP added: "Dundee is a city transforming itself, building on its own already strong performance in life sciences, gaming and now as a cultural centre with the V&A.
"A strong manufacturing base is equally as important for the city.
"The port has huge importance in that vision and of course this alongside the redevelopment and repurposing of the Michelin site can ensure that Dundee not only retains a strong manufacturing base but indeed expands and diversifies that base."
Dean Lockhart, a Scottish Conservative MSP in Fife, told the debate: "After 11 years of SNP Government, we have a low growth, low productivity and low wage economy.
"We have an SNP Government that has failed to meet every one of its own seven economic targets. Scotland is now the highest-taxed part of the UK for workers earning over £26,000 and for businesses looking to expand."
Business Minister Jamie Hepburn hit back at the Conservatives, saying: "We are providing £200m for a city region deal for Dundee. The UK Government is short-changing that city region deal by £50m."