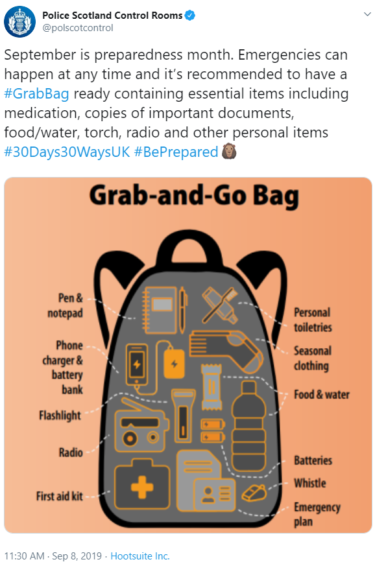 Police Scotland has denied any wrongdoing after links between a tweet it sent out and a private company selling ready-made "grab and go" emergency bags were uncovered.
Police were accused of "scaremongering" earlier this week after posting the message from a verified account recommending people prepare one of the bags.
It was one of a series of tweets issued using the #30days30waysUK hashtag, promoting a nationwide campaign to raise "preparedness" across the country.
A number of local authorities in England also got involved and the tag trended for a time across British social media.
One of the people credited with co-founding the movement in the UK is Monika Al-Mufti, who is the secretary of a registered company Evaq8 Ltd which bills itself "the UK's emergency preparedness specialist".
The mail-order business, registered at an address in London, sells emergency kit bags, filled with first aid boxes, torches, batteries and survival tools.
It's understood Ms Al-Mufti is not involved in the day to day running of the business. However, she has written a blog for the Evaq8 website, which lists Police Scotland as a customer.
There is no suggestion Police Scotland was requested by either party to take part in a Twitter campaign. The force would not comment when asked if using a hashtag with links to a private business went against its social media policy or standard operation procedures.
The timings of the tweets, as reported in Monday's Courier, was derided in many quarters, with some accusing the force of putting out the alert amid fears of a no-deal Brexit — a claim refuted by police.
Age Scotland said the messages had been " a step beyond what is necessary".
Scottish Conservative North East region MSP Liam Kerr said: "The wider discussion about this has highlighted that there are occasions on which being prepared can be a lifesaver. For example, weather pundits are saying the so-called 'Beast from the East' is coming back to our shores pretty soon.
"However the timing and the content of the tweet was naive at best. I am sure that there is no ulterior motive as to products being sold off the back of this campaign. But it is not a good look for Police Scotland."
A Police Scotland spokesperson said: "The messaging is part of a general resilience awareness campaign that runs each year during September which emergency services and partners across Britain are taking part in."