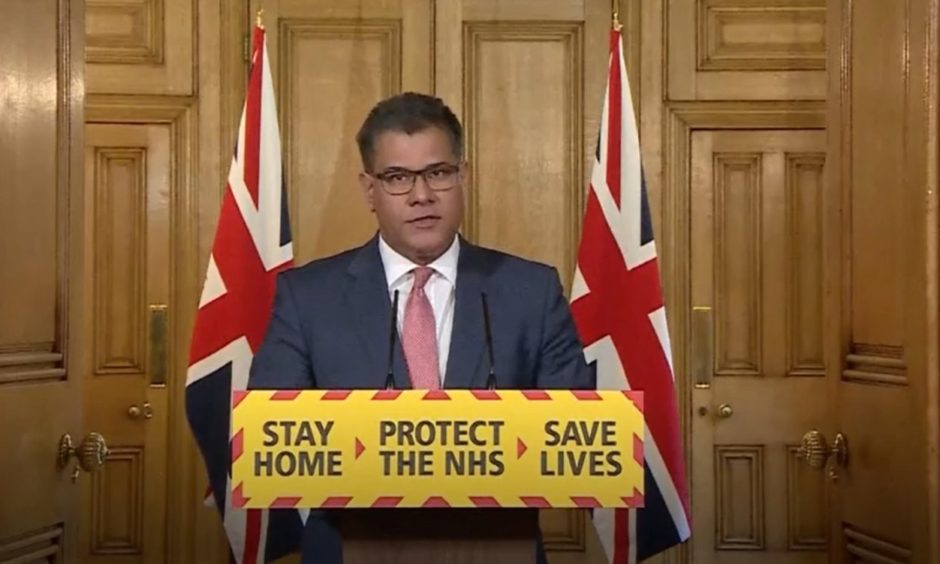 Britain's hunt for a coronavirus cure has received a major boost after the UK Government launched a multi-million-pound vaccine taskforce.
Led by UK chief scientific adviser Sir Patrick Vallance, and deputy chief medical officer Professor Jonathan van Tam, the taskforce will support efforts to rapidly develop a Covid-19 vaccine.
As well as providing industry and research institutions with the resources and support, the group will review regulations to allow quick and safe vaccine trials.
It will also scale up manufacturing, so that when a vaccine becomes available, it can be produced quickly and in mass quantities.
In all, £14 million has been made available for twenty-one new research projects across the country.
Edinburgh University will use £500,000 from the fund to track the progress of the Covid-19 epidemic in near real-time by using anonymised electronic health records from 1.2 million people in Scotland.
Academics at the university will also process blood samples and swabs of the virus taken from a sub-sample of the participants, to determine who has been exposed and to sequence the virus genomes.
The taskforce launch came as the UK recorded another 847 Covid-19 deaths in hospital, taking the total to 14,576.
Business Secretary Alok Sharma, speaking at the daily Downing Street press conference, said: "UK scientists are working as fast as they can to find a vaccine that fights coronavirus, saving and protecting people's lives.
"The taskforce is key to co-ordinating efforts to rapidly accelerate the development and manufacture of a potential new vaccine, so we can make sure it is widely available to patients as soon as possible."
He warned however that producing a vaccine would be "a colossal undertaking" with "no guarantees" of success.
"It's a complex process which will take many months, but the Government is backing our scientists, betting big to maximise the chance of success", he said.
Professor Sir Mark Walport, UK Research and Innovation boss, added: "The research community's response to the Covid-19 crisis has been outstanding.
"In a matter of weeks, researchers have formed projects to develop potential vaccines, repurpose existing drugs and explore the potential for new medicines, and to examine how the virus is transmitted and causes wide variation in symptoms.
"Pre-clinical trials of vaccines and clinical trials of drugs are already underway. The pace at which this work has been carried out is tribute to the UK's world-class research base and its dedication to the fight against this disease."
The announcement came as researches at Oxford University revealed their ambition to start vaccine trails "next week".
Sarah Gilbert, a professor of vaccinology at the university, said she was 80% confident of the vaccine's success.
She said: "Personally, I have a high degree of confidence. This is my view, because I've worked with this technology a lot, and I've worked on the Mers vaccine trials, and I've seen what that can do.
"And, I think, it has a very strong chance of working."
The researchers say that, as well as developing a vaccine that can be used on a mass scale, it is important to make sure it can be manufactured at the required pace.
Professor Adrian Hill, director of the Jenner Institute at the university, said the team probably has the "most ambitious scale up" programme of all the groups working on a vaccine.
He added: "We're now moving to the point where instead of doing maybe a three litre manufacturing run, we're up to 50 litres will go to 100, 200, maybe even 2000.
"And we're talking to manufacturers who can provide that sort of manufacturing service.
"The aim is to have at least a million doses by around about September."