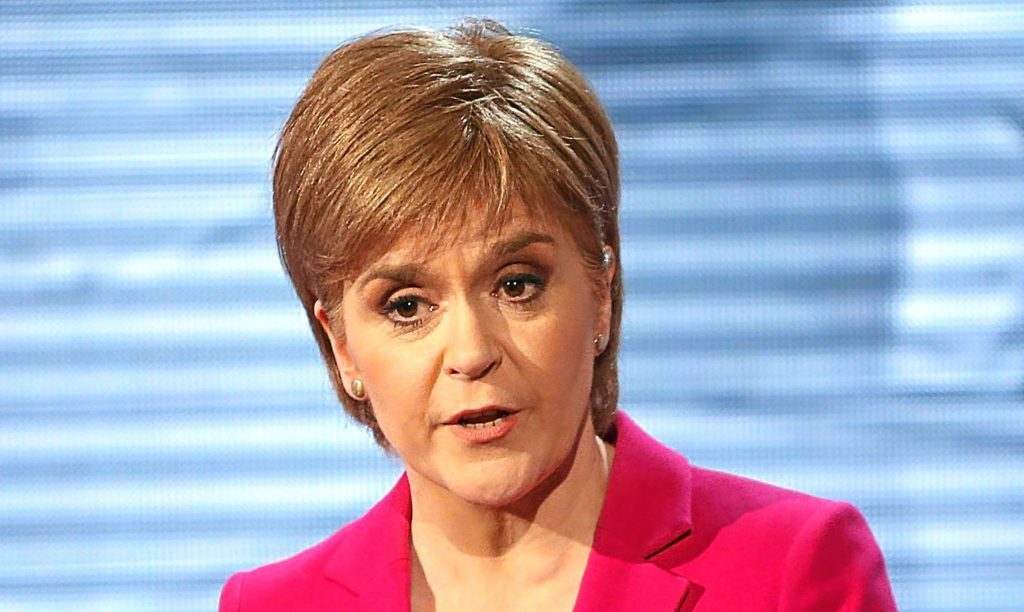 The First Minister refused to be drawn on whether she would follow George Osborne in raising taxes to offset a post-Brexit economic shock.
The Chancellor faced the wrath of 57 Conservative MPs after he warned of income tax hikes and a fresh round of spending cuts to plug a £30 billion hole in the public finances if the UK voted Leave.
With control of income tax coming to Holyrood next year, the First Minister's spokesman said she would not get sucked into Tory "internal wrangling", leaving Scots in the dark about how their tax bills might be affected by Brexit.
"We are not engaging with that. It all seems to be internal wrangling in the Conservative party," he said.
Pressed on how the Scottish Government would react to a post-Brexit income tax rise in the rest of the UK, he said: "I think that's putting hypothesis upon hypothesis.
"We have put forward a positive case forward for Remain and that is what the First Minister will continue to do."
Mr Osborne joined forces with his former rival Alistair Darling, the erstwhile Labour Chancellor, to warn of a 2p rise in the basic rate of income tax and 3p on the higher rate, as well as 5% cuts in police, transport and local government spending.
They said the ring-fenced NHS budget would be at risk of being "slashed" as they outlined an "illustrative" budget based on forecasts from the independent Institute for Fiscal Studies think-tank.
Kezia Dugdale, the Scottish Labour leader, backed the Chancellor's warnings over taxation saying there is "an obligation on political leaders to spell out the consequences of a vote to leave the EU".
"All the experts agree that a Leave vote would be damaging for our economy and mean less money available for public spending.
"That means there would either have to be tax rises or spending cuts."
She said would come on top of billions of pounds of Tory austerity.
Ross Thomson, one of a handful of pro-Brexit Conservative MSPs, said Scots could pay less tax than their English counterparts after Brexit.
The North East MSP said: "I think the money we send to Brussels could be used to fund lower taxes in Scotland."
He said new powers would come to Holyrood, which would give the Scottish Parliament "great scope to do things differently".
Deputy First Minister John Swinney labelled claims from Conservative Leave campaigners that Scotland would get more powers post-Brexit a "Tory con-trick".
Mr Swinney said: "Leaving the EU does not mean extra powers would be transferred to the Scottish Parliament.
"The powers would go straight back from Brussels to Westminster, who would have absolutely no obligation to devolve anything."
Earlier, David Cameron said in Prime Minister's Questions yesterday that Brexit would lead to a cut in the block grant from London to Edinburgh.
The SNP's leader in Westminster Angus Robertson said we must vote to stay in the EU "if Scotland's budget is to be secured".
Patrick Harvie, the Scottish Greens' co-leader, said the right-wing Tories would jump on any excuse – including a Brexit vote – to impose more austerity.
Meanwhile, a poll for STV found the Leave campaign in Scotland is gaining ground on those wanting to stay in the EU.
The Ipsos MORI survey found 53% of Scots planned to vote Remain compared with 47% for Leave. In April, support for Remain was at 66%.
A UK-wide TNS poll gave Leave a 7% lead on Tuesday. The UK votes on whether to stay in or leave the EU on June 23.