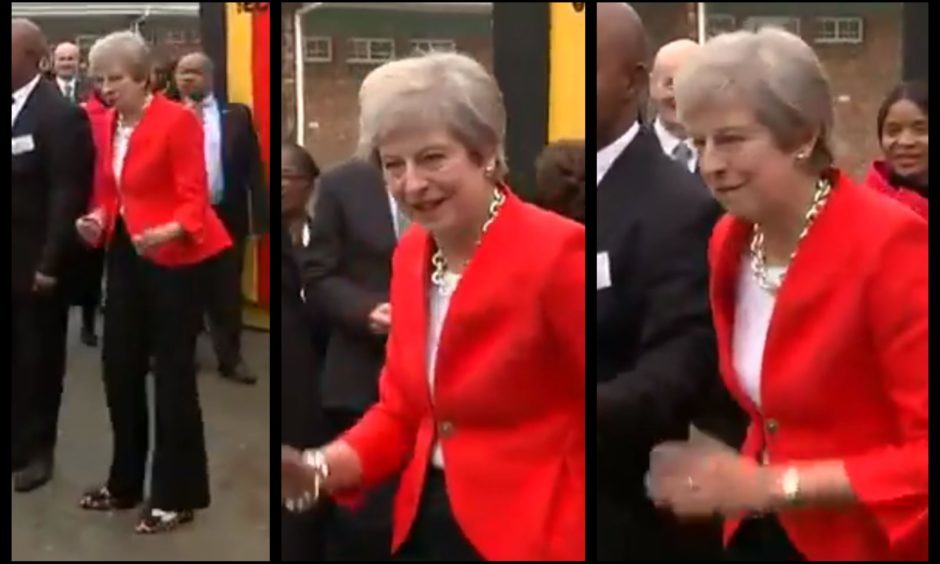 Prime Minister Theresa May showed off her questionable dance ability during a visit to South Africa.
The Tory leader was filmed dancing with youngsters at pupils during a visit to the ID Mkhize High School in Gugulethu, Cape Town, during a three-day trade mission to Africa – but her moves came under quick scrutiny on social media.
Theresa May dances with school children during her South Africa visithttps://t.co/hW8S23GsNd pic.twitter.com/nQNXquroKH

— BBC News (UK) (@BBCNews) August 28, 2018
During her visit to the country Prime Minister pledged £4 billion in support of African economies, aimed at creating jobs for young people.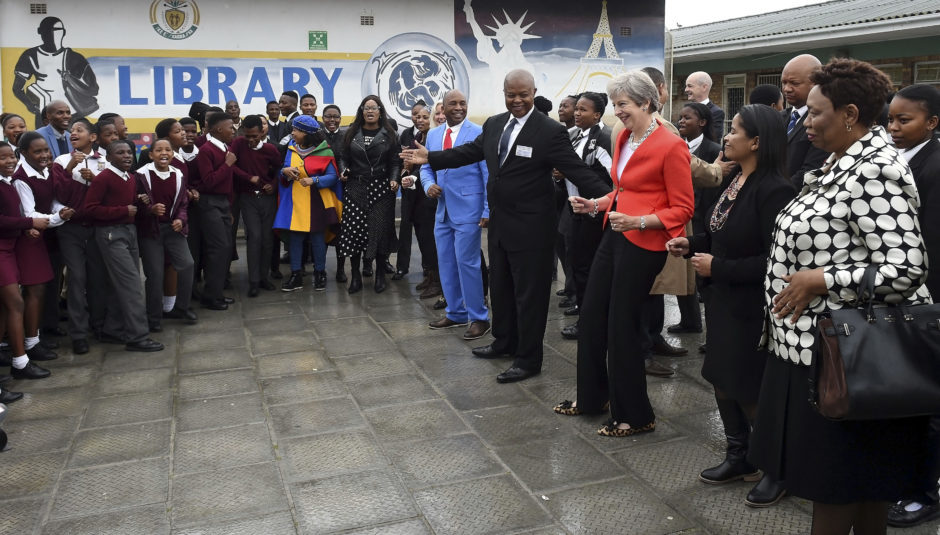 She is also due to visit Nigeria and Kenya during the trip.
People were quick to scrutinise Mrs May's quirky boogying on Twitter after footage emerged online.
Theresa May dances like she's had her freedom of movement surgically removedpic.twitter.com/PaiSEtcRE9

— James Felton (@JimMFelton) August 28, 2018
Dear politicians: unless your name is Michelle/Barack Obama, or Sophie Gregoire/Justin Trudeau, you probably shouldn't dance.

Ever.

As in, never. #TheresaMay

— Mike Gibbs🏳️‍🌈 (@Mikeggibbs) August 28, 2018
And they said C-3PO couldn't dance. #TheresaMay totally burning up the floor here https://t.co/RYDPCGSXXG

— simon clydesdale (@simonclydesdale) August 28, 2018
Theresa May's dance moves… pic.twitter.com/Ou5kJK03KL

— Paddy Power (@paddypower) August 28, 2018
https://twitter.com/kalyna99/status/1034385982609678336
It's a far cry from last night's Strictly launch…

Can Theresa May win when it comes to her image? Dance and face the Twitter ridicule. Stand still and be derided as uptight.

I'm talking about this 10am @bbc5live, join in! What do you think? https://t.co/KfW6zjGyhQ

— Anna Foster (@annaefoster) August 28, 2018
Mrs May said the Government intends to carry over the EU's economic partnership agreement with Mozambique and the Southern African Customs Union (SACU), which consists of South Africa, Botswana, Lesotho, Namibia and Swaziland.
Her pledge came during a keynote speech in Cape Town on how the UK plans to use its aid budget in the "national interest", encourage private firms to invest on the continent and help offer security and jobs to stabilise African economies.
She said an additional £4 billion of UK investment aimed to "pave the way" for at least another £4 billion from private sector financing, as part of the Government's ambition to overhaul the United States as the G7's top investor in Africa.
The UK is also to sign a new agreement to "repatriate huge sums of money that have been illegally removed from Kenya", allowing this to be returned to its "rightful owners" and invested in the country, Mrs May said.
But she denied the UK has neglected Africa, pointing to visits by former foreign secretary Boris Johnson.
Theresa May is me at weddings after being dragged to the dance floor and forced to dance after an entire evening of avoiding doing so. https://t.co/RzAs4rnybb

— Alan McGuinness (@Alan_McGuinness) August 28, 2018
Not being able to dance is a fine British export and I'm glad to see Theresa May upholding it. https://t.co/xIcHJr87YL

— Samuel (@stfawcett) August 28, 2018
⚡️ Theresa May has previously said Abba gets her "up and going", so it's only natural that she has kicked off her trip to Africa by showcasing some of her best dance moveshttps://t.co/9Wz0jQjaK9

— Sky News Politics (@SkyNewsPolitics) August 28, 2018
If you're wondering where #TheresaMay got her dance moves…. pic.twitter.com/wU0p7wjfbt

— James Gibson (@GibboSkyNews) August 28, 2018
I had to…. pic.twitter.com/BlmTOwgKNP

— Ria⁷ 🦢⚪ [hiatus] (@__gaciria) August 28, 2018