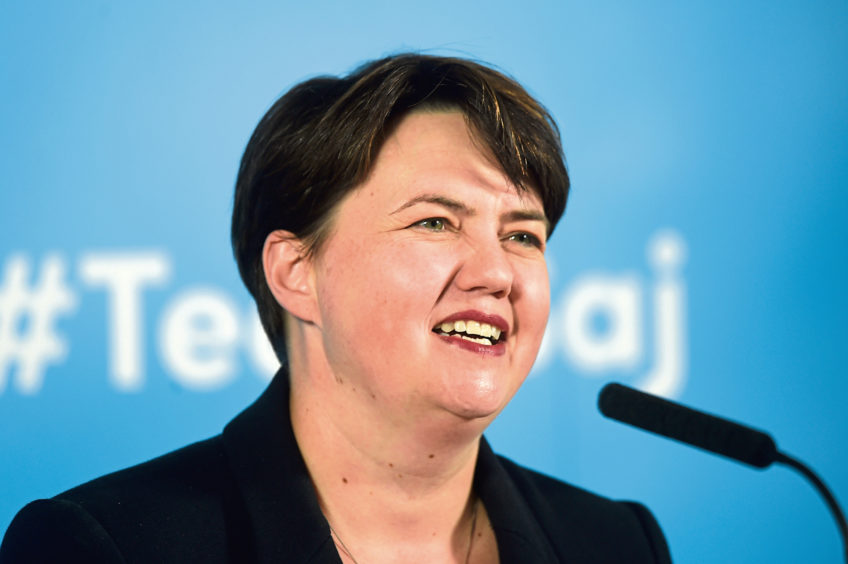 Prime Minister Boris Johnson will make his first official visit to Scotland on Monday.
Mr Johnson's visit comes as opposition parties rounded on Scottish Conservative leader Ruth Davidson, calling her position as Scottish boss "untenable" following Mr Johnson's election.
The Prime Minister has unveiled a further £300 million funding for new growth deals – similar to the one signed recently as part of the Tay Cities Deal – across the UK.
New deals will be arranged for Falkirk, the Islands, Argyll & Bute, Mid South West Northern Ireland and Causeway Coast and Glens, the Prime Minister said.
"Our union is the most successful political and economic union in history," he said.
"We are a global brand and together we are safer, stronger and more prosperous.
"So as we prepare for our bright future after Brexit, it's vital we renew the ties that bind our United Kingdom.
"I'm proud to be in Scotland (today) to make clear that I am a passionate believer in our great union, and I look forward to visiting Wales and Northern Ireland to ensure that every decision I make as Prime Minister promotes and strengthens our union."
Ms Davidson wrote in a Sunday newspaper she could not support a no-deal Brexit.
Mr Johnson has repeatedly said the UK would be leaving the EU "no ifs, no buts", with or without a deal on October 31.
Ms Davidson offered her support for the Prime Minister and denied the party would split between Scotland and the rest of the UK.
Long-term friend to Ms Davidson and former Scottish secretary David Mundell was sacked by Mr Johnson from the cabinet last week.
Shadow Secretary of State for Scotland and Kirkcaldy and Cowdenbeath MP, Lesley Laird, questioned why Ms Davidson had changed her mind to support Mr Johnson, having publicly backed other candidates during the leadership race.
SNP Europe spokesperson and North East Fife MP Stephen Gethins called Ms Davidson's position as Scottish Tory leader "weak and untenable".
Ms Laird said: "Ruth Davidson used to say Boris Johnson's Brexit policies weren't good enough for this country.
"But now Boris Johnson is in Downing Street, Ruth Davidson has some serious thinking to do.
"Is she now going to back a Tory Prime Minister, who she did not support and who is moving towards a disastrous No Deal Brexit which will damage our economy, place our NHS in danger and put Scotland's place in the UK at risk.
"The truth is that Boris Johnson has repeatedly shown ignorance towards Scotland, and is determined to force through a no-deal Brexit. His insulting views on women, Muslims and the LGBT community make him a real threat to Scotland's place in the UK and a challenge to Scottish values.
"Ruth Davidson and the Scottish Tories have a serious choice to make, but so far they have shown they are not up to the job when it comes to standing up to Boris Johnson.
Mr Gethins said: "It's time for Ruth Davidson to find a backbone and join the SNP in meaningfully opposing Boris Johnson's disastrous Brexit plans – instead of always rolling-over.
"She says she will support Mr Johnson but not a no-deal Brexit – but the fact is you can't do both. Her position is untenable and weak.
"As the European elections showed, the Tories support for Brexit is damaging them in Scotland – and they will face an electoral backlash if they drag Scotland out of the EU against our will.
"Now is not the time for more of Ms Davidson's flip-flopping or PR exercises. She must give a cast iron guarantee that all Scottish Tory MPs will vote against a catastrophic no-deal Brexit, which threatens to cause a recession, destroy 100,000 Scottish jobs, and cost every person in the country £2,300 a year."
In a column for the Mail on Sunday, Ms Davidson said: "I hope beyond measure that the new Prime Minister is successful in getting an agreement with the EU so that he can go back to the House of Commons and get the majority backing he needs. He has my full support in those efforts.
"Where I differ with the UK Government is on the question of a no-deal Brexit.
"When I was debating against the pro-Brexit side in 2016, I don't remember anybody saying we should crash out of the EU with no arrangements in place to help maintain the vital trade that flows uninterrupted between Britain and the European Union.
"I don't think the UK Government should pursue a no-deal Brexit, and if it comes to it, I won't support it.
"I wrote to tell the former prime minister Theresa May that last year and I confirmed my position to her successor when I spoke to him last week.
"As leader of the party in Scotland, my position exists independently of government. I don't have to sign a no-deal pledge to continue to serve."