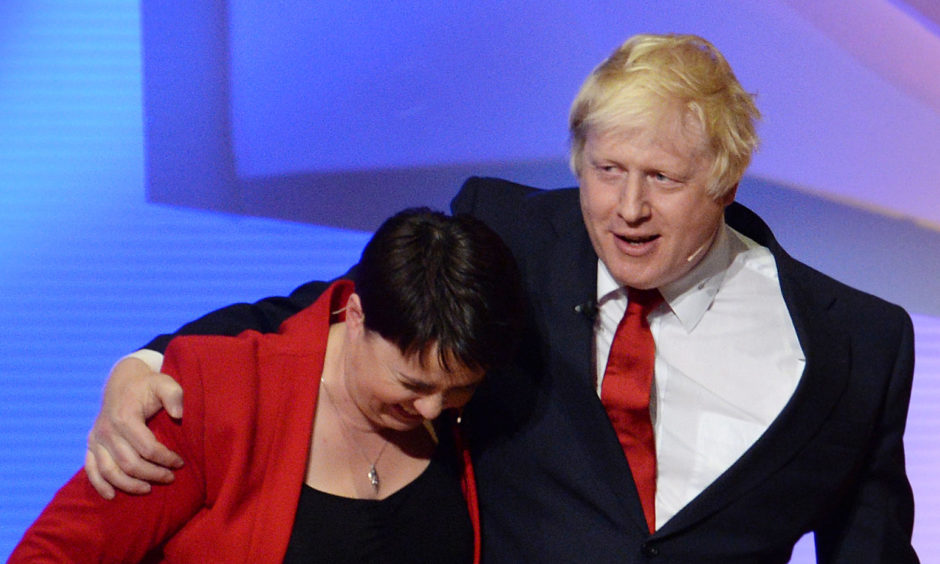 Boris Johnson declared yesterday he was "delighted" with Scottish Conservative leader Ruth Davidson despite her refusal to support a no-deal Brexit.
Mr Johnson met with Ms Davidson at the Scottish Parliament following comments made by the Scottish leader on the prime minister's stance on Brexit.
Ms Davidson launched the campaign for Mr Johnson's leadership contender Sajid Javid and publicly backed a number of other runners instead of the now prime minister.
In addition to this, she wrote this week she would not support a no-deal exit from the EU.
Despite this, the prime minister said he was in "awe" of what Ms Davidson had achieved as Scottish leader.
He said: "I have a very good relationship with Ruth.
"I am with Ruth very much.
"She has been a fantastic leader of the Scottish Conservatives and I am oft in awe of what she has achieved.
"I am a massive fan of the way she has taken the argument to those who would destroy our constitution and damage our global brand that is admired around the world. I will be doing everything I can to assist her."
Ms Davidson said: "First and foremost, the prime minister and I spoke about our shared determination to strengthen the Union and to make the case against Nicola Sturgeon's plans for a second referendum on independence.
"We also discussed the many ways the UK Government can work in Scotland, for Scotland, to boost our economy and support key Scottish businesses.
"On Brexit, the prime minister has made clear the government's preference is to leave the European Union with a deal. I back him wholeheartedly in that aim."