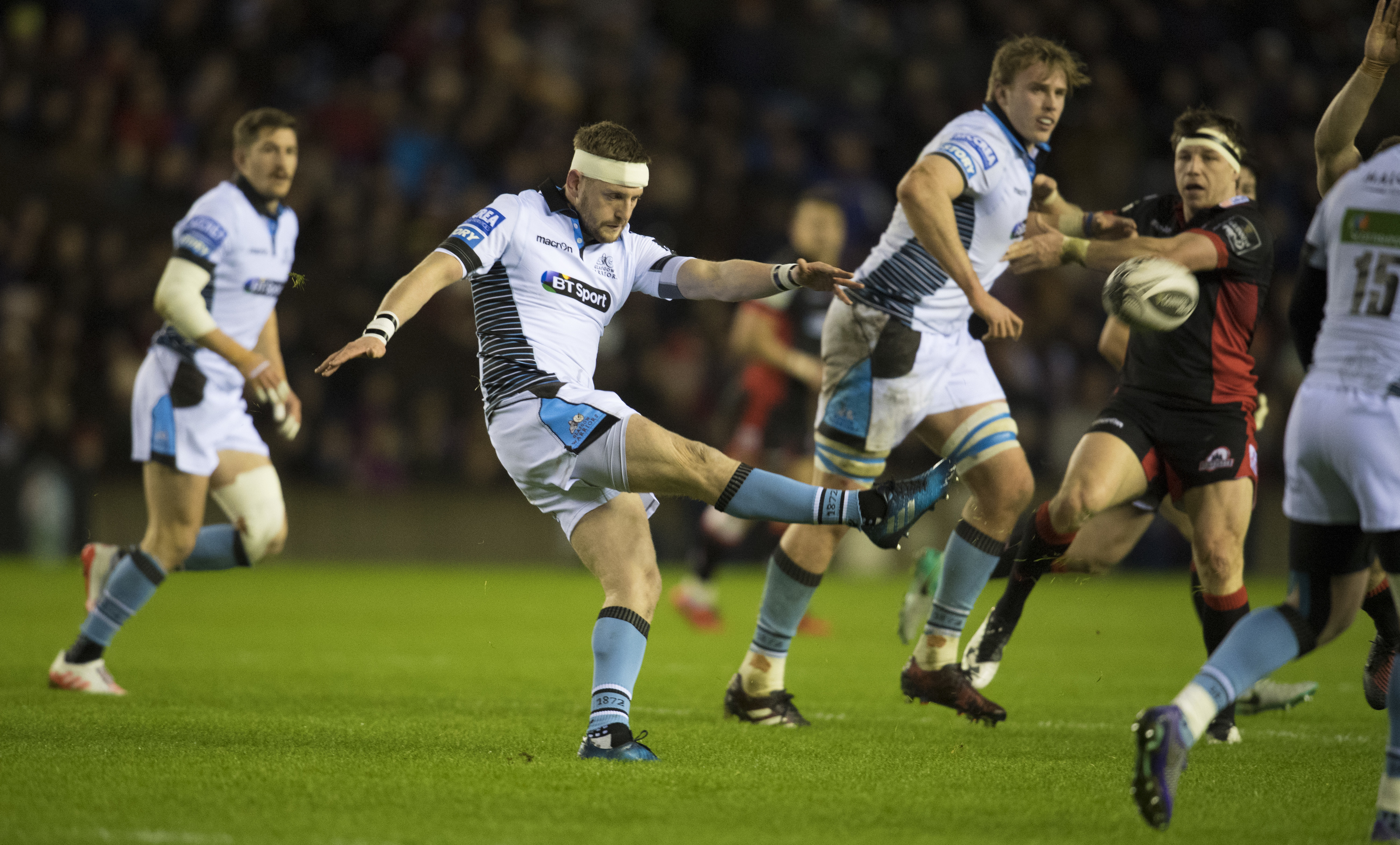 The first 1872 Cup match at BT Murrayfield on Boxing Day was certainly no spectacle, but it was decisive enough in showing where the two Scottish pro teams stand.
After losing the cup the last two seasons Glasgow, quite patently, are in the ascendancy again. They've haven't lost at home to Edinburgh for over a decade, so after the Warriors' comfortable 25-12 win on Monday one can assume the little trophy is on it's way back to Scotstoun when the teams reconvene there after the Six Nations.
But both clubs face considerably vital matters moving forward into 2017.
Warriors flying again…for now
Three weeks ago Gregor Townsend was under a little pressure after three successive PRO12 defeats for the first time under his watch and three losses at home this season.
Instead after the Racing doubleheader and an 1872 win, the head coach is in clover again.
It underlines that with their international players, Glasgow may still be the best team in the PRO12 and certainly one of the best in Europe. The 24-phase move for Alex Dunbar's try was a masterpiece in patience, control, and skilful handing, especially at the end.
Without their Scotland stars, however, Glasgow might not even be a PRO12 play-off team, and the upcoming Six Nations could see the Warriors revert back again.
Injuries, a slightly smaller squad and the loss of key men like Leone Nakarawa have made this season more challenging for Townsend in the key international windows. Glasgow didn't win a game during the Autumn Internationals.
Lock Brian Alainu'uese – some people's man of the match on Monday – could be an influential factor moving forward, but it seems qualification for the last eight in Europe is the benchmark Townsend has set himself in his last season at Scotstoun.
Edinburgh's imminent big decision
Monday was Edinburgh's last regular home game at Murrayfield – for now – as they move to Myreside for the next home game later this month against Timsoara in the Challenge Cup.
The logistical question coming out of their 1872 home leg is always the same for Edinburgh – how can they entice back some of the crowd of just over 21,000 to boost their average home gate of just 3000-4000?
Their new home might be part of the answer to that, but it is what is on the pitch that really counts.
The key is the decision on the next head coach. Edinburgh are certainly more fun to watch since Alan Solomons left, but they're also much more naive and prone to error, and leadership (see below) is a key issue. Duncan Hodge certainly hasn't made a cast iron case for getting the post full-time.
This is probably an even more crucial decision than the Myreside move for chief executive Jonny Petrie and his bosses, SRU chief executive Mark Dodson and director of rugby Scott Johnson.  Do they stick with the young native coach, or bring in another "name" with more experience and a clear remit to develop their crop of promising young players?
That was Solomons' remit, but it was laborious in execution. Those young players – Hamish Watson, Magnus Bradbury, Blair Kinghorn, Jamie Ritchie and Damien Hoyland, among others  – are Edinburgh's best resource and they must be handled in a way that brings them, and the team, forward rather than stagnating.
A key difference? Leadership.
Glasgow were almost penalised off the park early on by referee Ian Davies on Monday, the count standing at 7-0 to Edinburgh in the first half-hour. But they were only 6-5 down on the scoreboard.
When Alex Allan was sinbinned, co-captains Jonny Gray and Henry Pyrgos both – separately – had a word with the ref for clarification. Glasgow didn't get penalised for the rest of the half and scored 10 points in that time, turning the contest decisively in their favour.
It shows the growing influence of Gray as captain and the wisdom of being a little sneaky and appointing Pyrgos as an official "co-captain", thereby having two players with communication with the referee. But it also shows that the Warriors can think on their feet and adjust if need be.
There's plenty evidence Edinburgh can't. In both games against Stade Francais in the Challenge Cup they needed to get into the dressing room to hear the soothing words of the coaches to change plans, hence their Jekyll and Hyde performances in both games.
Grant Gilchrist is Edinburgh skipper at present, a job he might have had for Scotland but for his injury issues in the last two years, but even among his more experienced colleagues it seems leadership is lacking. This lack of a voice to implement Plan B may be a legacy from the restrictive gameplans that were the norm under Solomons.
The best captain I've seen in Edinburgh colours this year was their third choice hooker Neil Cochrane in the win over Ulster, maybe their best performance of the season. Hodge needs to find an onfield lieutenant who can guide the team in the right direction without waiting for instructions from the stands.
Wrap Russell in cotton wool
We can't, of course. But Vern Cotter must wince every time the stand-off (and Stuart Hogg, and Jonny Gray) takes a hit or is flattened in the tackle.
Russell wasn't quite as peerless as he had been in the two Racing games, with a couple of loose kicks and some over-ambitious ideas. But his attitude was summed up with his almost carefree drop goal when the ball toppled off the tee as he moved to take a penalty kick at the posts. No bother, three points.
There's no real alternative to him as Scotland stand-off. Duncan Weir had a difficult game against his old team-mates, who know his limitations and his tendency to sometimes make bad decisions under pressure. Many Edinburgh fans think the team runs better and has more threat with Jason Tovey at 10.
Meanwhile Ruaridh Jackson has had chances and isn't getting regular games at Harlequins, and Peter Horne is injured. It seems it's Finn or not much at all.