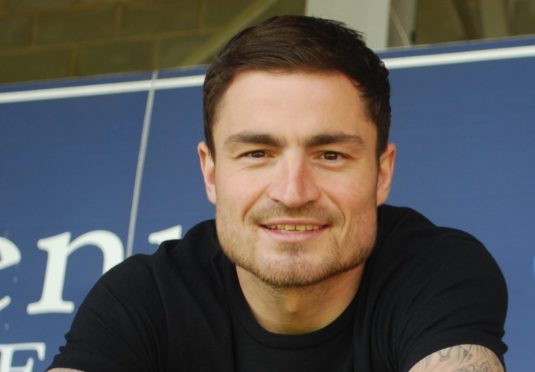 Paul Paton insists he would accept more war wounds from this afternoon's battle with old team Dundee United if it meant Dunfermline picking up another three points.
The Pars skipper finished last weekend's 3-2 victory over Ayr United with blood streaming from a cut just above his eye following a nasty clash with former Dunfermline midfielder Andy Geggan.
After being hasilty bandaged at the time, the 32-year-old had to have stiches inserted in the cut in the dressing room immediately after the game.
But the midfielder, who spent three years at United before leaving in 2016, reckons the pain was a small price to pay for a crucial win that extended Dunfermline's unbeaten run to four matches with a first home league win in seven months.
He said: "I was aware of our home record.
"We hadn't won a home game since March. For a club like this it is obviously not good enough.
"To finally get the win, we will take a lot of confidence out of that.
"Ryan Dow and I were in getting stitches at the same time after the game but it is always easier to take when you get the three points.
"I don't think I have had many stitches in my face, maybe once before a long time ago, but I have played a lot of games so I can't remember most of them.
"But if I had been getting stitches after a defeat I would have been absolutely raging.
"We are willing to do anything to get three points. I would probably take the stitches every week if it meant three points, to be honest.
"The points were needed and they came with the stitches so I will take that."
After a mixed start to the campaign, Dunfermline sit seventh but are only two points off a play-off spot and would move to within five points of the Tangerines should they win today.
United will be desperate to recover from back-to-back defeats but will have the comfort of knowing they have won all four home league games convincingly this term.
Whilst they will be happy to be back at Tannadice, Paton admits the trip will also rekindle happy memories for him as well as a determination to get a positive result for the Pars.
He added: "I have been watching United's results every week since I left.
"I loved being at United. I captained the team a number of times and it was probably the happiest time in my career.
"So I do not have a bad word to say about the club. I loved being there, I am still fond of the club and I am looking forward to going back and seeing some familiar faces.
"Obviously I want to win on Saturday as much as I have ever wanted to win any game but it is a special club to me.
"I had a special bond with a lot of the fans at that time as well so it will be something that I will always remember."