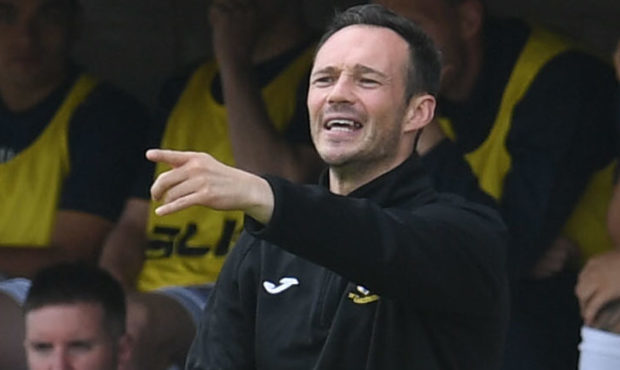 Raith Rovers midfielder Brad Spencer admits dad John has been a crucial guiding light in his career, despite some father-son disagreements along the way.
John is the former Rangers, Chelsea, Motherwell and Scotland striker and is on tap to give Brad advice, even when he does not want it.
Spencer junior joined Raith in the summer following spells with Dumbarton and Forfar last season after his departure from Kilmarnock.
And the 23-year-old is determined to make the most of having a dad who has a wealth of experience in the game as both a player and latterly as a coach in the United States with the likes of Houston Dynamo, Portland Timbers, Colorado Rapids and San Jose Earthquakes.
Brad, who penned a 12-month contract extension earlier this month, said: "My dad has been a big part of my career and is such a big influence on me. He's been there and done it.
"I try to take it all on board. I do fight back a bit because he's my dad! But I try to take in as much as I can.
"It's his experience that he's trying to pass on to me so that I can make the right decisions and look after myself and have a long career.
"When we played Raith here in the play-off semi-final last season he said it was a good club and he could tell it was a club that wanted to get the ball down and play.
"He knew that suited me so when they came in for me he told me it was pretty much a no-brainer, coming back to full-time football. I'm just delighted to be here.
"The club's just brilliant. It's been a good step for me and I'm glad I came.
"I'm playing every week and enjoying playing a style of football that really suits me.
"We get the ball down and we pass and we play, and I'm loving it. There's nothing to not enjoy. It's been great since I came."
Spencer junior will be a crucial figure today as Raith bid to retain top spot in League One with a victory over local rivals East Fife.
Rovers crashed to a 4-2 defeat in the derby back in August but are seeking revenge as they bid to recover from back-to-back draws with Clyde and title rivals Falkirk in recent weeks.
He added: "It's a bonus that we're still sitting top of the table, on goal difference, but we know that the second half last week wasn't good enough.
"We know how East Fife play.
"They'll come and work hard and get in our faces. We know that from the last time when we played them away.
"But with the result we had in that game we want to try to put it right in front of our own fans and keep our run going at home.
"We play well at Stark's Park. It's a park that we suit, we get the ball down and pass, and hopefully we can get the home fans behind us and get a good result."
Meanwhile, it is business as usual for East Fife manager Darren Young despite being interviewed for the manager's job at Ayr United.
Young eventually lost out to Mark Kerr at Somerset Park and all his attention is on toppling the Kirkcaldy side.
He explained: "It has been an interesting couple of weeks but it is what it is. I have been involved in management in Albion Rovers and East Fife for a few years now so there were discussions about a full-time job but it never happened."
"Good luck to Mark but the process did not get in the way of our preparations for Raith Rovers. It was not a case of back to business as business was never switched off as everything was in place and sorted for this game.
"I am glad that is the case as this is a cracking match to be going into. We have played 10 games and are sitting on equal points with a local rival with the prize of going to the top of the table available if we win at their place.
"We won there last season so we know it can be done and we will be backed by a decent travelling support so it is an exciting prospect.
"We managed to beat Raith earlier in the season 4-2 and we will look to do so again although it may not be in such an exciting fashion. We played well in that game where we had to come back from a goal down and then score a fourth goal late on as they pulled the score back to 3-2 with five minutes to go.
"We are going into it after a close 1-0 win over Forfar last weekend. That kept our unbeaten run going and it would be great to go to win this one and remain unbeaten and move to the top of the league."
Former Rovers Kyle Bell, Chris Duggan and Kevin Smith all remain unavailable to Young due to injury.