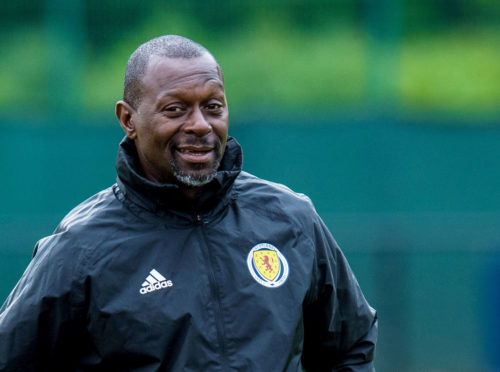 Scotland coach Alex Dyer has insisted it would be wrong to read anything sinister into yesterday's spate of call-offs.
High profile English-based players Andy Robertson, Scott McTominay and Ryan Fraser all have genuine injuries, he pointed out.
And that is the beginning and end of the story.
"It's a blow, of course, but the boys are injured," said Dyer.
"They are top players but they are injuries which you can do nothing about. It's not like they don't want to be here.
"They are good lads and they all want to be here, but they are injured and they've decided to stay with their clubs – which makes sense.
"It's part of the game. It's part of international football."
According to Dyer, manager Steve Clarke has been philosophical about the situation.
"It's a tough job for the manager but he knows what it takes in international football," he said. "He knows you name a squad and you know some of them are not going to be here.
"They play for their clubs and give 100 % every Saturday. There will always be a point when some of them get injured.
"The most important thing is the boys who are here, they want to be here and they want to help Scotland push on and win these two games."
Robertson won't be travelling to Cyprus but his decision to travel to the Scots' Edinburgh training base has been appreciated by his team-mates.
"He's here and he wants to be here," said Dyer. "It's important that he's here for the build-up. He's a big part of things here. He's arguably the best full-back in Europe, if not the world, and we need him around.
"He's a good leader. It's sad he can't train and play but it's a good chance for someone else to step up to the plate.
"Andy wants to be around for a few days."
The last couple days have been a reminder that planning for the March play-offs at this stage would be a futile business.
"We want to finish the group as high as possible which is the main thing," said Dyer.
"The next two games are so important for the lads that are here.
"After that we will see how their form is for their club and some of the lads who are here might not be here in March.
"That is just the way it is."
There have been a couple of mid-campaign international retirements – Robert Snodgrass and Matt Ritchie – but Clarke will take that in his stride.
"It is not personal," said Dyer. "It is never going to be personal. It is football.
"If they don't want to be here or are injured then push them aside and take the ones that are here.
"There is no time for messing around.
"If there are lads who don't want to be here that is fair enough.
"The lads who want to be here are the ones we have to deal with and we make sure we focus on them.
"We make sure they are ready to go for the games.
"The manager has to pick the players he trusts and the players who are on form."