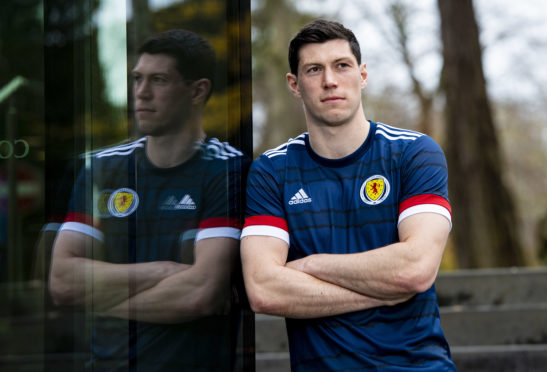 Scott McKenna doesn't agree that centre-back has become a problem position for Scotland.
Injuries rather than quality have been the biggest issue in that part of the pitch, according to the Aberdeen man.
McKenna, who has missed a couple of recent squads, pointed out:  "I think we do have good centre-halves but the problem's been that two or three of us have been injured at the same time.
"When we do come away there has only ever been three or four rather than five or six and there's not that real competition the manager would like. That's just circumstances with the boys being injured.
"I am sure he would love to have five or six of us here all training and trying to outdo each other. It's not quite worked out like that way yet.
"I hated missing out the last two camps through injury. I've played six games for Aberdeen now. I am just happy to be back and to hopefully have a good week.
"There was one time I remember sitting at home watching Scotland, I can't remember who it was against. I must have been 15 or 16 and about to go full-time at Aberdeen – I might have been on loan at Ayr actually. But I remember sitting there thinking 'there's no way I was ever going to get to that level'.
"Everything was going against me at the time.  The way things have turned round and I am here now it's not something I want to let go. So just from that day watching and thinking I was a million miles off and I would never even consider I would ever be here."
McKenna doesn't believe the Scottish game is neglecting the development of centre-backs in favour of unearthing number 10s, false nines and wing-backs.
"These things are just swings and roundabouts and it is up to the boys who are Scottish and playing centre-half to try and step up and grab that opportunity," said the Kirriemuir man.
"I know at the Aberdeen academy centre-half is a position they are targeting and trying to work on from a young age, and I am sure there will be a lot of clubs doing that."
McKenna used to study the defensive greats to improve his own game. In fact, he still does.
"As a boy and as a Man United fan it was Rio Ferdinand and Vidic who I watched," he recalled. "They were a different level.
"You are probably never going to get to that level but if you can take one or two things they did it might improve you, you never know.
"You are trying to watch their positioning while they are on the screen and see what they are doing. It's probably something I still do when watching Premier League games now – my focus is not on the game or the score, it's on what the defenders are doing. That's the level we all strive to be at."
Be asked to name the last great Scottish centre-back partnership and most people over the age of 40 would probably say Miller and McLeish.
That duo would cast a long shadow if it's the latest Aberdeen central defensive combination, McKenna and Mikey Devlin, who get the chance to nail down starting positions in the next two games against Cyprus and Kazakhstan.
"That would be the dream," said McKenna. "We have probably not spent as much time on the pitch together as we would have liked.
"We had a good partnership at the start of last year but I got injured and Mikey got injured. We are lucky if we have played 10 games together since November last year.
"But we have played three out of the last four together, kept a couple of clean sheets and we are both in the squad. So it's exciting and hopefully something we can build on.
"You always get compared to them (Miller and McLeish). They say we have never had any good centre-halves since then. They were so good, that was always going to happen with the success they had at the club. It was incredible.
"Aberdeen right now are quite a bit away from where they were in those days. You can see why people always say that because they were used to having that standard  of centre-half back in the day.
"We can only do the best we can to try and bring success to Aberdeen and keep the fans happy."
It didn't go down well with some Dons supporters when McKenna asked for a transfer in the summer.
"That was something that was in a few months ago," he said. "But as soon as the window closed, my attention was back on Aberdeen.  I just need to keep my head down and see what happens come January.
"It's a big six months and the closer you get to the window, all you hear is people saying 'you need to play well the next five or six games, your future could depend on it'. You become used to it. I've heard it so many times now.
"I just want to do as well as I can in every single game I play in, whether that's for Scotland or Aberdeen."