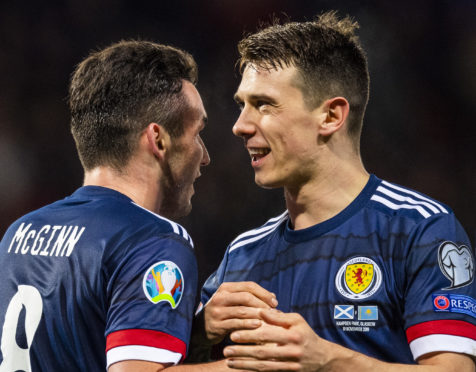 There has been so much negativity surrounding the Scottish national team for so long.
The time has definitely come for us to look on our glasses as half-full rather than half-empty.
And when it comes to the midfield we've got, there is no reason to be anything other than optimistic.
I can't remember the last time we had as exciting a midfield as this – and that includes the Scotland teams I played in.
There is pace, creativity and movement.
The fitness of the boys in that area of the pitch on Tuesday night was immense. They never stopped. Had the game gone on another 10 minutes there would have been more goals at Hampden for the Scots.
John McGinn has been a revelation and the blend between him, Callum McGregor, Ryan Christie, Ryan Jack and James Forrest worked really nicely.
When John Fleck came on, he had a hand in a goal and you've got the likes of Scott McTominay and Ryan Fraser to hopefully come back as well. Neither of them weaken things.
I'm confident that we'll be more than a match for any of the countries we could face in the play-offs in midfield – and some better sides as well.
Keeping Steven Naismith fit will be key.
He's got such experience, and the style of football we play needs someone like him to brings the young runners into the game in dangerous areas.
We all know that Steve Clarke would love to have a couple of centre-backs as a natural partnership.
Both positions are up for grabs in the next four months as I see it.
I'm not sure about Scott McKenna and Declan Gallagher together. They're probably too similar. Big Dec has got a good chance of keeping his place, though.
I wouldn't be surprised if Steve ends up going with one of those two and more of a ball-playing type like John Souttar beside him.
After all the problems with call-offs, the manager can take a lot out of this last camp and I'm sure the nation will be right behind him when it matters in the spring.
I think we've got a really good chance of ending our long wait and getting to the Euro finals.
* You're never too old for a football first and there will be one for me on Saturday.
It will be my first trip to Auchinleck Talbot.
Arbroath will be on a hiding to nothing in the Scottish Cup.
Obviously we're expected to win but everybody knows that the strong junior sides provide a really hard test.
I suspect the standard of player will be comparable to the lower leagues of the SPFL.
This is what gets called an 'attitude game'.
You have to match the other team's enthusiasm and that has rarely been a problem for this Arbroath team.
* Dundee's game in Inverness on Saturday has the 'must win' feel about it already.
Dundee United have pulled clear of the pack and they'll be hoping the teams below them keep taking points of each other to make sure their gap stays intact.
They'll want this to be a draw but the Dark Blues have to produce the right response to their derby defeat after having had to suffer for a fortnight.