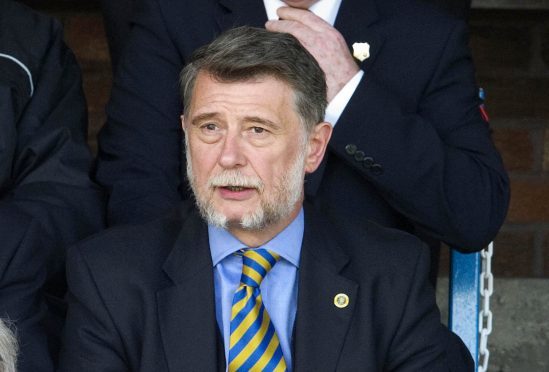 Cowdenbeath chairman Donald Findlay QC says he would be willing to act as peacemaker in talks to resolve the feud between Rangers and the SPFL.
Scottish football's civil war escalated today as Hampden bosses issued a lengthy rebuttal of a number of allegations made by Gers in the long-awaited dossier that put Dundee's vote U-turn back under the microscope.
Former Ibrox chief Findlay has called on both organisations to call a halt to the bitter dispute over events surrounding last month's controversial ballot.
"Of course, I'd do anything to help," he told The Courier.
"But I'm not sure the present regime at Ibrox would be interested in my help."
Gers managing director Stewart Robertson was accused of making "baseless, damaging and self-serving attacks" by his fellow Scottish Professional Football League board members.
The other eight SPFL directors insisted they had "complete confidence" in chief executive Neil Doncaster and legal advisor Rod McKenzie, both of whom the Light Blues want suspended.
The board members again urged clubs to reject the Light Blues' resolution for an independent investigation into the circumstances surrounding the vote which ended the lower-league season and handed the SPFL board the authority to do the same for the Premiership.
Findlay added: "I don't believe I'm seeing anything [in the dossier] that would merit a full-blown enquiry. I just don't see it.
"I might be missing something. I thought we were going to see evidence of corruption and bullying and I'm not seeing that at all.
"Someone will need to show me where it is. There seems to be argument about procedural matters and so on.
"You don't need a full-blown enquiry for that.
"You might need to look at your procedures – I don't know. But that's way down the scale from corruption and bullying.
"What they may actually need is somebody who understands the game, who knows the game and what's coming in acting as a sort of arbiter in an informal way.
"I don't think they'd want me but someone of that ilk I suspect could and should come in and say, 'Look guys what we need to do guys is move on from this, we've got to get this sorted quickly'.
"You sit round the virtual table if necessary for two days solid and thrash it out."
Today's SPFL letter – which came ahead of a meeting between the 12 Premiership clubs and Championship winners Dundee United – stated it was "enormously frustrating to see one of our number launch baseless, damaging and self-serving attacks".
It added: "Every one of us has sat alongside Stewart Robertson and been privy to the information and procedures of the SPFL board.
"If anything had been untoward, we would have addressed it at the time.
"Having served on the board for season 2017/18 and again since July 2019, if he actually believed these serious, wide-ranging and numerous claims, why has it taken him until now, just five days before Rangers' resolution comes before the EGM, to make them public?
"Surely if things were so bad, so dysfunctional, he had a clear and compelling duty to speak out before now?"
Findlay – Blue Brazil chairman since the summer of 2010 – backed the questions posed of Robertson by the Hampden hierarchy in its response.
He added: "If I was sitting down as the kind of chairman of a discussion on this, I'd be saying to Mr Robertson, 'Why didn't you say at the time if these things were going on? You must've seen them happen'.
"If you were reading your board papers and the information available to you, you must've known these things.
"Why didn't you do something about it at the time? Why did it take so long to publish the evidence?
"I'd say, where is the evidence of bullying and corruption?
"If you have evidence, show it. In my line of work, I don't deal in rumour or gossip or anything else.
"I'm only interested in evidence and facts."
FULL TRANSCRIPT: Dundee chief John Nelms breaks his silence on SPFL vote saga