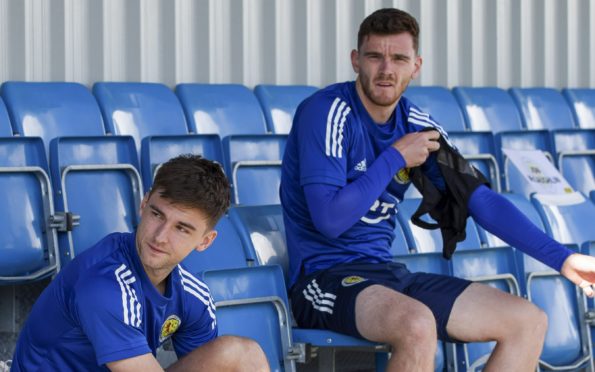 Scotland will be back in action at Hampden Park against Israel on Friday night, their first game in over nine months. Here are three talking points ahead of the return of international football.
What to do with Tierney and Robertson
It's the big conundrum and will remain so for a long time hopefully. Scotland have one left-back in Andy Robertson already worthy of the 'world class' description and another in Kieran Tierney who, if he backs up last season's form at Arsenal with a full campaign of an equal or improved standard, will be talked about in similar terms.
Tierney's larger frame and greater versatility has meant that when the two have both been fit and available – all too infrequently, it must be said – Robertson has been the one who has stayed in his preferred position.
Steve Clarke has four realistic options and leaving Tierney out isn't one of them.
He could play the FA Cup-winner at left-back and shunt Robertson up. In Clarke's favoured 4-3-3 (the same as Jurgen Klopp's) the former Dundee United man wouldn't be at home in a compact middle three, however, or as the front wide player trying to do a passable impression of Sadio Mane.
Tierney can do a better than passable impression of a right-back, mind you. And has done so for Gordon Strachan. In a game when Scotland are expected to be on the back foot, this would be a serious option. But against Israel when they will likely be dictating the play and attempting to stretch their opponents out wide, having a full-back who wants to cut inside rather than cross with his right foot would be a real waste. Also, Liam Palmer has been an upgrade on Stephen O'Donnell and this isn't the problem position it once was.
His second best position is as the left centre-back in a back three formation  and it would be intriguing to see this given a go by Clarke. It's unlikely, though. The risk of trying out a new system so close to next month's Euro 2021 semi-final play-off is big.
That leaves option number four – Robertson at left-back and Tierney as the left-sided centre-half in a back four.
Along with centre-forward, centre-back is consistently the main issue for Scotland managers. Like several of his predecessors, Clarke doesn't have an established duo he can rely upon and, as such, playing Tierney there doesn't even feel like a gamble. Modern international football requires defenders to be as comfortable on the ball as they are coming to meet a header. Tierney's aerial ability is good for a full-back and adequate for a centre-half and it's not as if he will have an Andy Carroll type dropping on to his toes anyway.
Over to you Lyndon
Clarke went out of his way to talk-up Oli McBurnie when this squad was announced. That went well.
Even if you believe the manager's sincerity in absolving the Sheffield United striker of blame for turning out for his club in a pre-season friendly a couple of days after dropping out of the Scotland squad, this has loosened the tap on the drip drip McBurnie effect with plenty in the Tartan Army. Some have had enough of the excuses.
Like I say, Clarke may not be one of them but he would be wise to get his head around the reality that this isn't a man putting red circles around Scotland fixtures in his calendar.
From being a likely substitute on Friday night, Lyndon Dykes is now virtually the last centre-forward standing and an all but certain starter.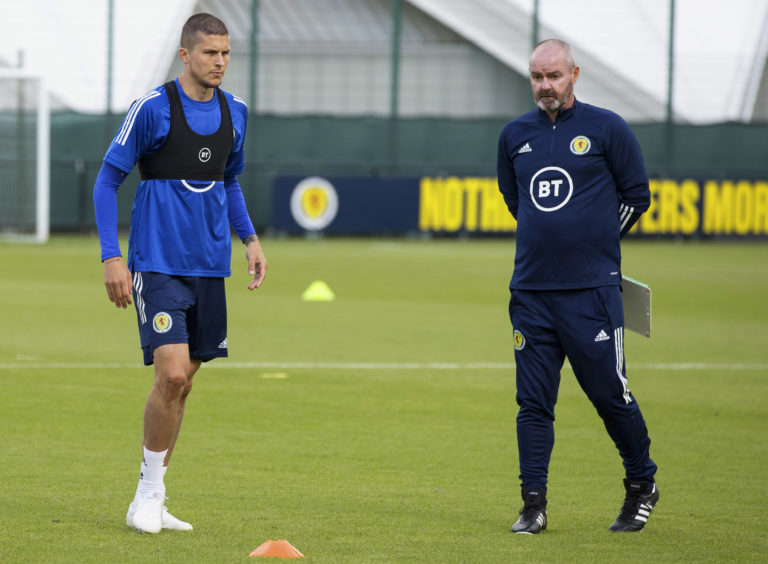 When Clarke can get Steven Naismith into the lone-striker role again he'll probably do it but Dykes has shown himself to be a man capable of seizing an opportunity and raising his game when he's up against better defenders.
Shut the Israel defence down when they're trying to build from the back, run around a lot, get Scotland up the pitch, bring the quick-footed ball players into the game and shoot low and hard. The bar hasn't been set high by McBurnie and a couple of others. Dykes is capable of doing all of the above and maybe a bit more besides.
The area of strength – or at least it should be
Dominate the ball and Scotland shouldn't have to worry about not having a top class number nine in their team.
Even with a couple of absences, Clarke has proper options in every one of the five positions behind and around his centre-forward. And it means he has game-changers to come off the bench as well.
Ryan Jack has made himself undroppable for his club and it should be the same for his country. With Scott McTominay being starved of game-time at Manchester United in the last few months, Jack has to be man chosen to fill the most disciplined role on the pitch – midfield anchor – as he was in Scotland's last double-header.
John McGinn has his flaws – a less than reliable first touch being one of them -but they are out-weighed by his strengths. There may be a couple of national coaches who can afford to leave out a midfielder with seven goals in six games to his name but Clarke certainly isn't one of them.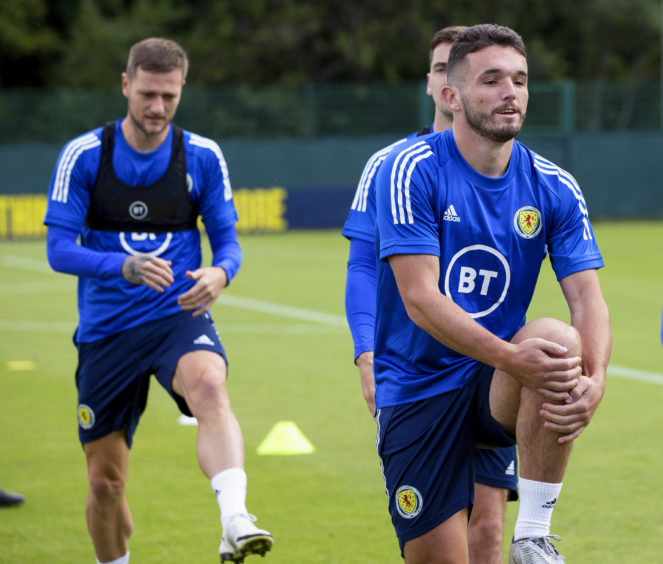 Callum McGregor needs to start influencing international matches with subtlety of touch and football savvy, judging when best to play the simple pass and when to be more ambitious. Without doing so – or chipping in with goals – he doesn't justify his place. He's 27 now, has 18 caps and hasn't scored once for Scotland or written his name all over a big game. That needs to change. If it doesn't happen in the remainder of 2020 then maybe Clarke has to have a rethink in 2021.
The 'he's better for Celtic than Scotland' thing used to be pinned on James Forrest but he has balanced the scales up a bit in recent seasons. With Ryan Fraser about as likely to turn up for Scotland duty as McBurnie, Forrest's pace is essential and he can't be left out.
Ryan Christie got the final midfield/forward starting place in the November games but this is where I'd changed things. The time has come to reunite the Tannadice old boys, with Armstrong playing as a wide number 10, a role he has been excelling in at Southampton. Underappreciated and underused for Scotland, he needs a national coach to show the faith in him that Ralph Hasenhuttl has.
As a group, the age profile of Scotland's creative players is just what you would choose. Controlling a game against nations other than the very top ones should be a realistic ambition and has to become this team's defining characteristic.
LONG READ: The evolution of Stuart Armstrong as ex-Dundee United star's mentor, a Southampton legend and a former coach discuss his extraordinary rise