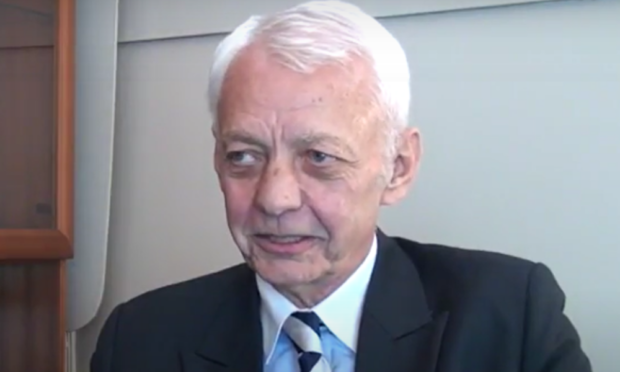 Raith Rovers owner John Sim insists he has only taken on the role as chairman on an interim basis following Bill Clark's decision to step down.
Clark, who steered the club through Covid-19 pandemic and the successful legal fight to ensure Rovers' promotion from League One was honoured, severed his ties with the Stark's Park outfit last week.
That led to Sim, who is based in Thailand as Global CEO of accountancy firm PFK, stepping into the void ahead of the club's return to the Championship.
The current quarantine restrictions in the Bangkok make it difficult for Sim to return to Scotland on a regular basis but the majority shareholder plans to be as hands on as possible.
He said: "I have taken the role on an interim basis and we will have to see how it goes.
"Now online meetings have become the norm so location is less important.
"Being chairman of Raith Rovers was never on my bucket list but watching my team play from the Railway Stand is.
"At the moment I can get from Thailand to Scotland but can't get back from Scotland to Thailand.
"It depends on when Thailand starts to open up.
"I plan to spend at least half the year out in Thailand, I have a business here that requires me to be not he ground some of the time.
"I don't mind flying and I certainly want to be able to see Raith Rovers.
"I'll probably let it run towards the end to the year then we'll make a call."
One appointment made prior to Clark stepping down was the unveiling of former Kilmarnock and Ross County defender Scott Boyd as the club's stadium development manager.
And Sim, who is also the majority shareholder in Stark's Park Properties – the company that owns the ground, is hoping the use of the stadium continues to grow.
He added: "Scott has been recruited by Stark's Park Properties as stadium development manager.
"His focus is on the stadium rather than the club.
"Over the years the stadium has been neglected and each year it has been a last minute struggle to get its safety certificate in time for the start of the new season.
"This is simply unacceptable as the numbers of people using the Stark's Park on non-match days has significantly increased.
"Our goal is to make Stark's Park a community hub and I am confident that Scott can drive this forward.
"We have ambitious plans for the whole Raith Rovers family and our challenge is to assemble the best team to drive it forward.
"For years we have talked about a community club and now is the time to make it happen."