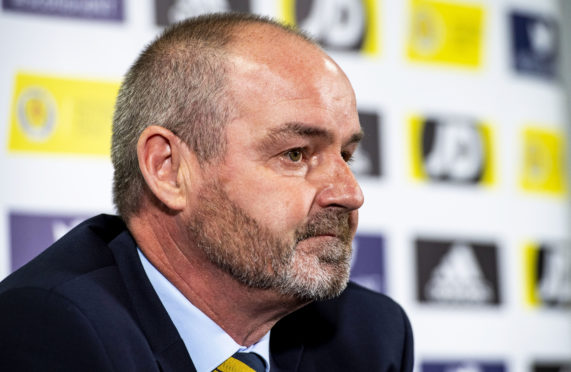 If you are one of those types who subscribe to Scottish football fatalism then that performance and result in the Czech Republic might be tolerable. Worthy of mild acclaim even.
Conditioned by so many horrible 'it's what we do' moments down the years, this one had embarrassing defeat written all over it from the moment the news broke that Steve Clarke's men would be playing a Czech league select with nine debutants in the starting line-up. And that writing was in block capitals when an early goal was thrown into the mix.
To find a way of not putting a size 12 on the banana skin is a rare treat, and surprisingly un-Scottish, if that's your mindset.
But for other more rational human beings who don't believe their country is cursed and look on their sport as something the participants actually have a bit of control over then it was another underwhelming experience to follow on from Friday night's at Hampden Park.
The good aspects of the display were Lyndon Dykes' near post dash for the first Scotland goal and the move that led up to it, and Andy Robertson looking like a good left-back again.
But those were outweighed by the bad.
The centre of midfield was too ponderous against Israel and it was too ponderous again. There is now a worryingly familiar lack of fluency and imagination in an area of the park that should be Scotland's strongest.
If anything, Kenny McLean and John Fleck were slacker in possession and even more open and easy to play through than Ryan Jack and Callum McGregor had been in Glasgow.
So things are deteriorating in midfield. What about the centre of that defence?
Scott McTominay may one day develop into an international class centre-half but that day won't be arriving anytime soon – certainly not before next month's Euro 2021 play-off semi-final.
He certainly has the physique for the position but the required instincts are lacking.
Not spotting a forward's run cost the Scots the opening goal and in the second half, at 2-1, the Manchester United man was backing off when he needed to get tight. His unease was contagious.
Beyond getting confirmation that McTominay can't possibly be risked as a centre-half against Israel, and Dykes was worth the sweet-talking, Clarke has not learned much at all from September's double-header.
He can't put a pen through a three-at-the-back formation because had he played a trio of out-and-out defenders in at least one of the games, or one half of one of the games, it might have worked. Chances are, he'll return to a back four, though.
The overall feeling is of an opportunity missed in these Nations League fixtures. With Scotland there is always an element of cross your fingers and hope for the best. That is undoubtedly the territory the Tartan Army will be in when Israel return.