The Courier Sports writers discuss Friday night's Battle of Britain and try to summon up a bit of optimism……
Bonnie Scotland, Bonnie Scotland, we'll support you ever more. Is there any realistic chance of a win over England on Friday?
Ian Roache: In boxing parlance we have a puncher's chance but no more than that. Football is a simple game and usually the team with the better players wins the match. It doesn't always happen but it will, I feel, be the case this time. I fear an England win by at least two goals.
Eric Nicolson: A chance? Yes. A realistic chance? Sadly, no. I'm finding it hard to envisage a scenario where whoever plays out of Harry Kane, Daniel Sturrridge, Raheem Sterling, Adam Lallana and Theo Walcott won't tear our backline apart. If Scotland win it will be the biggest Wembley upset this fixture has known.
Neil Robertson: This England mob are hardly world beaters as they showed in their drab 0-0 draw with Slovenia last time out. However, it would still be a major shock if this Scotland team went to Wembley and won – put it this way, those flint-hearted assessors of sporting chance, the bookmakers, are offering odds of up to 9/1 on Gordon Strachan's men triumphing.
Que sera, sera, whatever will be, will be. Will a draw be a decent result or is it win or bust as far as World Cup qualifying is concerned?
IR: If it is a draw then efforts will be made to spin it as a positive result but it will, sadly, still mean that Scotland will be missing out on yet another major finals. Actually, I fear the damage has already been done with the results against Lithuania and Slovakia.
EN: A draw would be a great result. And I think Gordon Strachan would stay if there is one. It won't get us to the World Cup – Ian's right, that ship has sailed – but as a one-off match, drawing with England at Wembley would have to be viewed as a success.
NR: Normally a draw at Wembley would be rated a good result but Scotland really need a win to keep World Cup hopes alive.
Doe a deer or Doh oh dear. Do you have faith in the Scotland defence to cope with England's attacking pace?
IR: This should be the big worry for us. England aren't world-beaters by any means but they have pace in abundance up front and when you mix that with our pedestrian backline then it's pretty scary.
EN: Look at how easily Lithuania and Slovakia cut us open and I think that gives you your answer.
NR: I would struggle to make a case for our defence and if England click in attack on Friday night, we could end up chasing shadows.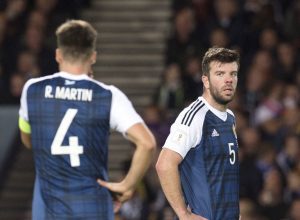 Sacked in the morning, you're getting sacked in the morning. If the Scots lose, should boss Gordon Strachan quit there and then?
IR: I felt the manager gave a big hint last week when he announced his squad that he will walk if – or, as I believe when – World Cup qualification is no longer a possibility. That will likely mean a wave goodbye after the game.
EN: The way this campaign has started, it looks as if he should have called it a day after the Euro qualifiers. But, yes, I think it's inevitable this match will be his last if it's a defeat.
NR: Even if we are defeated, I don't think the SFA will sack Strachan but he will definitely walk away. He has had the demeanour of someone who is not enjoying his job for a while and losing at Wembley will almost certainly signal the end of his spell in charge.
Cheerio, cheerio, cheerio. What about the players – should there be a clear-out if Russia 2018 is off the agenda?
IR: I think we have put up with failure long enough and drastic steps should be taken if Friday brings a defeat. I would keep the full-backs, clear out the whole of the central defence, inject youth into the midfield and keep only Leigh Griffiths of the strikers who will be at Wembley.
EN: There will need to be a few old heads kept on. Too severe a cull would hamper the chances of the young players making an impact. But I'd definitely want to see John McGinn, Stuart Armstrong, Oliver Burke, John Souttar and Ryan Jack get proper game-time in what's left of the campaign.
NR: In the short-term, yes. There are too many tainted with failure in the Scotland squad. However, in the long term there has to be a hard look at why we are failing to produce enough top-quality footballers. Yes, we are a small country but Iceland is a tiny one and yet they have put a system in place and spent resources so they are now punching above their weight on the international stage.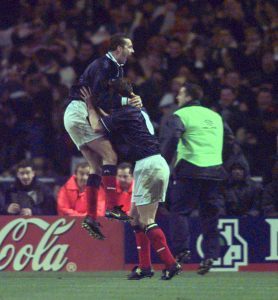 Wembley, Wembley, we're the famous Tartan Army and we're going to Wembley. Can the Scots supporters be the 12th man or are those days over when you consider the ticket allocation?
IR: The fans will once again be world-class even though their numbers won't be anything like in the good, old days. I just wish they had a team that rewarded their loyalty by qualifying for tournaments.
EN: I was at Wembley for the Euro 96 game and the Euro 2000 play-off match. Both times the Tartan Army outsung the English support despite being vastly outnumbered. They'll do the same again and it will inspire the Scottish players. How could it not? And, listen, for all my realistic pessimism or should that be pessimistic realism, it isn't mission impossible. If Strachan can remember what worked for him a couple of years ago, Scotland press and frustrate England like Iceland did in the summer, and Russell Martin and Grant Hanley play like latter day Gordon McQueens, then the Scottish fans may just get the performance and result that they will be able to tell the grandchildren about.
NR: I am sure the Tartan Army will do their best to roar the team to victory but it is easy to forget this week with all the "Braveheart" baloney that this game means as much to the England support and players. They will be as fired up as the Scots which should hopefully make for a cracking atmosphere.