A 2017 sporting wish-list. Obviously Scotland World Cup qualification is too far-fetched.
* Every other rugby nation follows France's lead and turns its back on the residency rule that has made a mockery of the international game. There are many statistics that could be trotted out which highlight the extent to which "project" players are now becoming the norm but one of the most stark is that around a quarter of the men Joe Schmidt has given first caps for Ireland to have been imports. France have said enough is enough and so should the rest.
* We don't get any moaning from Wales, England, Ireland or Scotland when the Lions squad and test teams are announced. Warren Gatland will pick the most suitable players for the job and which home nation they represent doesn't come into it (a belated apology or two from Ireland re Brian O'Driscoll four years ago wouldn't go amiss, either).
* A Scottish golfer plays reasonably well at The Open. Our record in the event is verging on a national sporting disgrace.
* Bradley Neil makes steady progress on the Challenge Tour and qualifies for the European Tour. The young Blairgowrie golfer could have a big future in the game and will be a stronger player for the ups and downs of 2016.
* Ryan Gauld continues his good form with Vitoria Setubal and gets a chance with Sporting Lisbon next summer. People were too quick to write him off. You have to admire the route Gauld has taken to further his career and his patience deserves to be rewarded.
* Johnny Russell gets called up again for Scotland. The Dundee United old boy was far from alone in being unlucky to be cast aside by Gordon Strachan last year. He should be a Scotland squad regular.
* Gianni Infantino brings in a rule that every international team must comprise 11 left-backs. It's Scotland's only hope.
* We find out what dirt Grant Hanley has on Gordon Strachan.
* Stevie May gets an injury free year. If he does, he'll prove he's of English Championship standard.
* Faissal El Bakhtaoui builds on his end to 2016. We journalist-types have a soft spot for the players who front up to speak after a shocker, as El Bakhtaoui did at Celtic Park.
* St Johnstone and Aberdeen play each other at rugby.
* If Hearts win or lose a game of football Ian Cathro is neither the saviour of Scottish football nor an out-of-his-depth dud. There is a middle ground.
* Rudi Skacel sees a hypnotist and has the Hearts v Hibs Scottish Cup final wiped from his memory. You don't play for them anymore Rudi.
* British football gets another American manager. I'm missing Bob Bradley's "PKs" and "road games" already. Has Joe Pesci done his pro licence?
* A job comes up that Rangers manager Mark Warburton isn't "flattered" to be linked with.
* Ricky Burns and Josh Taylor meet in the ring. Scottish boxing didn't get the Harrison v Burns fight and it would be a shame if 2017 passed without the three-time world champ against a genuine star-in-the-making. 2018 would probably be a year too late for it to be a real contest.
* Andy Murray wins the Australian Open. Ach, why not make it the full set and throw in the French, too.
* Somebody beats Lewis Hamilton to the Formula One title. Anybody. I don't like him.
* We get an official definition of what separates a "top player" from a "top, top player" and a "top, top player" from a "top, top, top player". Or, preferably, the phrases never get used again.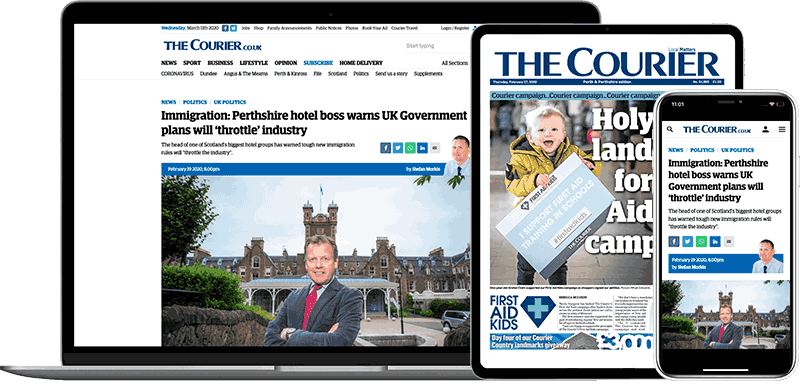 Help support quality local journalism … become a digital subscriber to The Courier
For as little as £5.99 a month you can access all of our content, including Premium articles.
Subscribe