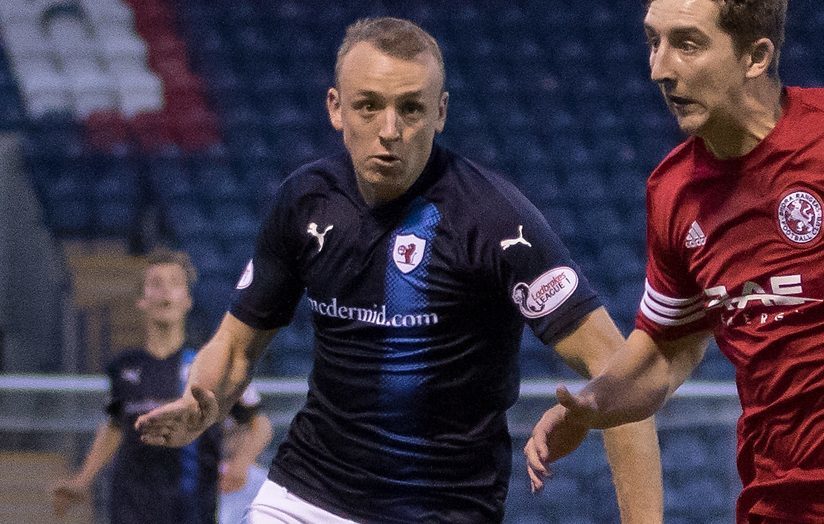 While combining working as a plumber with being a part-time footballer, Greig Spence often felt proper preparations for a game went right down the pan.
However, the 25-year-old striker wasn't going to turn on the waterworks crying about it when he was at Alloa and Cowdenbeath – it was just an accepted part of life.
Now though, he admits that being back for his second stint at Raith, he is revelling in being a full-time player once again.
Rovers have made an impressive start to what everyone at the club hopes is a promotion-winning campaign and Barry Smith's side will be looking to continue that promising opening when they travel to play East Fife this afternoon at Bayview.
Spence said: "A good start is exactly what we wanted.
"We are winning our games, we are unbeaten in the league and we are scoring a few goals.
"So you couldn't ask for any better.
"I also love being back full-time. It is obviously a big difference from being part-time. It is good just being in every day and working hard.
"I feel a lot fitter on a Saturday and I am putting in better performances than what I used to do.
"Previously I was a plumber so you would be working all day until five or half five at night, then you would rush out to training with no dinner.
"You would train until the back of nine and maybe not get home until 10.30 and then up for work the next day.
"Every midweek game, you would be working hard during the day and then playing at night.
"Nobody complains about it, you just get on with it but it is tough going so I take my hat off to all the part-time boys who do it because it is not easy.
"But it is good now that I can focus solely on my football."
Spence admits he is now a more mature person and player compared to how he was during his first spell at Stark's Park.
He said: "Definitely.  I think the last time I was a young boy and I would say I was really emotional.
"I would get frustrated with things and it is not until you go away, that you mature as a person and a player.
"When you come back you see the bigger picture.
"If you just work hard, the world is there for you to do well."
Spence is one part of a potent attacking Raith trio that also includes Liam Buchanan and Lewis Spence with the latter already having nine goals to his name this season.
Spence added: "It is a good mix. Liam has all the experience in the world.
"He is good to learn from and great to play with as he is so intelligent.
You have Lewis as well and he is on fire this season.
"He is good to play with and he will go to a much higher level but it is great just to see him enjoy his football and doing what he is doing at the moment.
"We are all hungry to score goals but most importantly we want the team to do well.
"If we are winning games, we don't really care who is scoring.
"Lewis has flown out of the traps but if you look at mine and Buchs' record over the last few seasons, I am sure we will get our 20-plus goals.
"We all have a real hunger to do well and hopefully that will continue against East Fife.
"Obviously it is a derby and is on a new artificial surface.
"They have a really good team. Darren Young sets his sides up really well and they are hard to beat so it will be another difficult game for us."