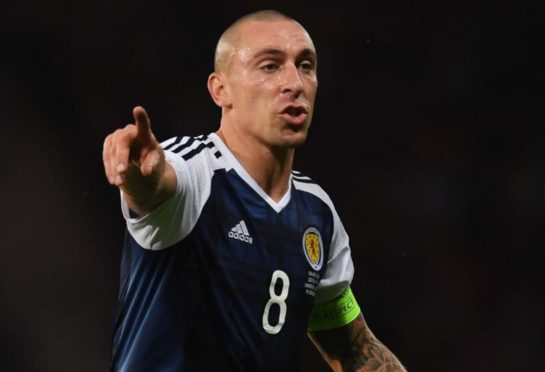 Scotland captain Scott Brown has blasted Maltese player Steve Borg for allegedly spitting on him.
Brown, already on a yellow card, spent the 2-0 win over Malta at Hampden last night desperately trying to avoid the booking that would have ruled him out of the Scots' massive World Cup qualifying Group F clash against Slovakia at Hampden on October 5.
He had to show incredible restraint, however, not to retaliate physically during a second-half incident when he claimed he was the victim of a horrible assault from Borg.
Brown said: "He did spit on me.
"He is a horrible b******.
"He put his hand up to apologise but I managed to keep my head.
"He is a horrible b****** but the main thing was getting the three points.
"Getting the win was the main thing.
"It was about the team, not about one person or bookings or anything like that.
"I thought we played really well. We played our game at our tempo.
"We were very patient with the ball," added the Celtic midfielder.
"It is a great result from England as well for us.
"We knew we had to win our game and then just hope they gave us a helping hand.
"I didn't really notice the cheering (of the English goals against Slovakia) and I thought the fans were maybe cheering us for keeping the ball.
"I didn't know England had been a goal down and we only found that out after the game.
"The Slovakia game will be massive now and hopefully the fans come out and support us next month."
Meanwhile, Leigh Griffiths, scorer of Scotland's second goal, claimed that the players always felt they could have a chance of qualification.
The Celtic striker, who came off injured but hopes he will be OK, said: "The boys always had belief.
"We knew it was going to be difficult but we always had that belief in the squad.
"It was a real sucker punch not getting the three points against England and if we had won that game we would be flying.
"But we've had four good performances in a row now (against Slovenia, England, Lithuania and Malta) and we are looking forward to the last few games.
"Slovakia will be hurting after Wembley and they know they are in for a right hard game here.
"They bullied us a bit in the 3-0 game so they won't be frightened by us.
"Hopefully we can replicate the last few performances, though, and get the result.
"We have a bit of a point to prove.
"You always want revenge after a result like that in the first game.
"That won't be on our minds on the night though. It's all about getting the points on the board."
The former Dundee man revealed that he has earned a new nickname because he always delivers.
That is now three goals and three assists in the last three games for Scotland and Griffiths said: "The boys are calling me Postman Pat in there. I think it's my big nose!
"It's just good to be involved for my country.
"If I can score goals and assist people to make sure the country gets three points, then I'm delighted with that."
For defender Christophe Berra, who scored the first goal of the night, it's now a case of bring on Slovakia.
The Hearts skipper said: "It will be some night and hopefully the fans can recreate the atmosphere they did against England.
"If they can do that then it will be intimidating for them.
"They have top players and beat us comfortably over there but I think it is maybe a different Scotland now.
"There is maybe a bit more confidence.
"It is going to be a massive game."