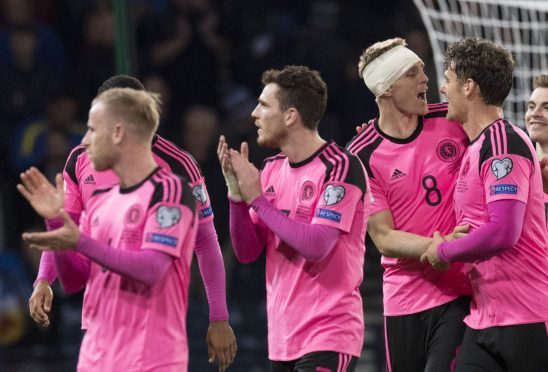 The pink tops were still on their backs and, in Darren Fletcher's case, the blood-stained bandage still wrapped round his head.
But the Scotland players were already starting to refocus on their next assignment while the songs and celebrations of the Tartan Army were still in the Hampden Park air.
Whatever happens in Slovenia tomorrow, Gordon Strachan knows that his squad won't be tripped up by job done complacency.
"It really is just a glow of satisfaction," he said, reflecting on the drama of Slovakia.
"What does that tell me? That they know the game is Slovenia is going to be big – that they need to be ready.
"Fletch is in there saying, 'right lads, we need to be prepared.'
"I thought, 'where are you going?' Maybe 20 years ago I'd be worried by that statement. The reaction was, 'that was great, but there's a big one coming.'
"There's a satisfaction thing. There's no euphoria. It's not that.
"It's just satisfaction, a quiet satisfaction. Seriously. There is no singing and dancing and high five hand-slapping.
"I think football fans now all know how hard it's going to be.
"They saw us only getting a late winner against them and England got a late winner.
"Everybody knows how hard this section has been. It's not easy out there. There is a lot of pressure."
Slovakia are near certainties to beat Malta, meaning the injury-time goal Slovenia conceded at Wembley has ended their play-off hopes.
So facing a glass half-empty opposition will be no bad thing for Scotland then?
"I can understand that," said Strachan. "But I've also seen teams digging themselves out of holes.
"We were one of them – coming from a scunnered position and then getting back up there again."
It was high stakes for Strachan on Thursday night. And, if it was possible, those stakes were raised even further when his team line-up was revealed. Barry Bannan and James Morrison instead of Callum McGregor and John McGinn would have defined the failure of this campaign in the eyes of many had Martin Skrtel not put the ball into his own net. So too would his choice of substitutions.
But nobody could ever accuse Strachan of favouring populism over personal conviction.
"I am quite loyal to players," he said. "But the loyalty is not blind.
"I understand that every manager wants players from their club to play. I've got that. I understand that every supporter wants their boys to play. I've got that as well.
"I've not got a problem with that.
"But what they don't all do is the research that I do. I go round every game my players play, I see everything. Again, even when we met up, I looked at players playing for their clubs in the last two weeks.
"I looked at it and said, 'OK, pick from there.'"
Strachan added: "It couldn't have been easy for Barry Bannan either.
"He must get that media thing where everybody is clamouring for other players when he turns up.
"But I think that's always going to happen. You want your local guys to get picked first.
"I think that happens with the anglos more often.
"Even back in my day – there is actually more pressure on the anglos to play better.
"Because what happens with an anglo is that, if he plays badly, he disappears for two months – you don't see him.
"A home Scot can play badly, score two goals the next Saturday and everything is good again.
"If you don't play well it lingers for two or three months.
"A home Scot can score two goals against Hamilton on a Friday night and be a world star again."
Chris Martin saved this campaign with his at-the-death winner against Slovenia last time the sides faced each other and he proved his worth again on Thursday by offering a much-needed physical presence off the bench when 10 men were beginning to grow weary.
"I think people now understand what he does," said Strachan.
"He's different from other players. His flick-ons and ability to keep the ball were fantastic.
"A lot of fans just go for pace and running about. He's more than that."
Saviours in attack have been most welcome but saviours at the back have been absolutely essential. Failings at centre-half have dragged down more national managers than Strachan so to have a pairing that has kept three clean-sheets in a row has been transformational for this qualifying campaign.
Strachan said: "One of them (Christophe Berra) is, I don't know, seventh in the Scottish Premiership.
"The other (Charlie Mulgrew) is playing in the English League One. Nothing against Hearts, Christophe is with a fantastic club. But it's not where these guys from Slovakia are coming from – Skrtel and Durica.
"They're playing at the top level in Europe.
"Charlie was fantastic."