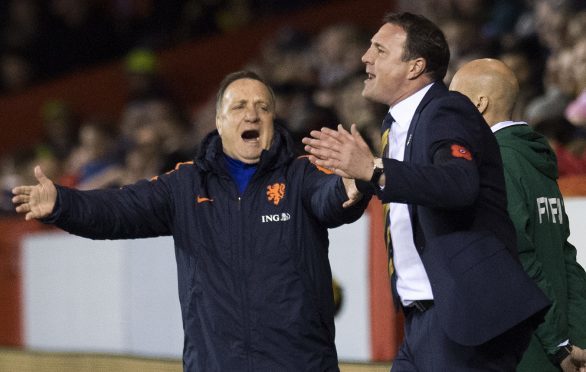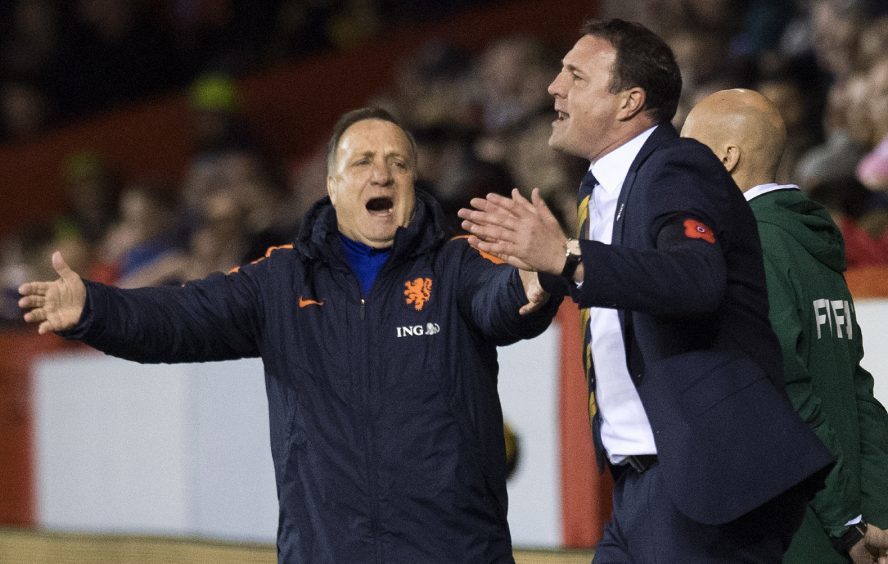 Scotland interim manager Malky Mackay spoke of his pride at seeing his much-changed side create so many chances against the Netherlands at Pittodrie last night.
The Scots may have lost their friendly to a Memphis Depay breakaway goal five minutes before half-time but there were plenty of signs that the post-Gordon Strachan era can be one of full of promise.
Mackay said: "I was really, really proud of the players. To play against Holland and end up with 18 chances on goal says something about them.
"They will be disappointed at not being more clinical and taking some of the chances but I thought they showed real bravery.
"We have a young group there who are very athletic and tactically aware of the game plan I asked them execute. More than that, they are technically good players.
"People have knocked the technique of Scottish footballers but if you look at the way they played against one of the top-ranked European countries (albeit one that has failed to reach the World Cup), who are so comfortable on the ball. We were also very comfortable on the ball.
"I'm very proud of them and I've told them that.
"That is the group with the jerseys now. They have three or four friendlies to play before they go into the Euro 2020 qualifiers. Why that group can't go on and win 50 caps, I don't know.
"They just need belief. They just need helped along the way to become top Scottish international footballers.
"If they play against mid-ranking European teams like that in a campaign, then we will win."
As for his own future, SFA performance director Mackay said:
"I wouldn't imagine I'll be in charge for the next friendly. I'll go back to my day job tomorrow.
"We have a staff in place. That's what I'll be heavily involved in, putting in place a staff which surrounds the senior squad. I want it to be a certain fashion, like a Champions League club.
"There is a sub-committee involved in picking the new manager. I don't think I'll be involved in that. If I'm asked my opinion, fine. All I've been doing in the last week was making sure the preparation was right to go and play Holland."
Meanwhile, Holland boss Dick Advocaat loved his winning return to Scotland, where he bossed Rangers.
He said: "I really enjoyed being back.
"I have great memories of this country and this place (Pittodrie).
"If you can win a game against Scotland it's always a good feeling.
"We can always play better but in the last five games we know Scotland did not lose. They lost this game."