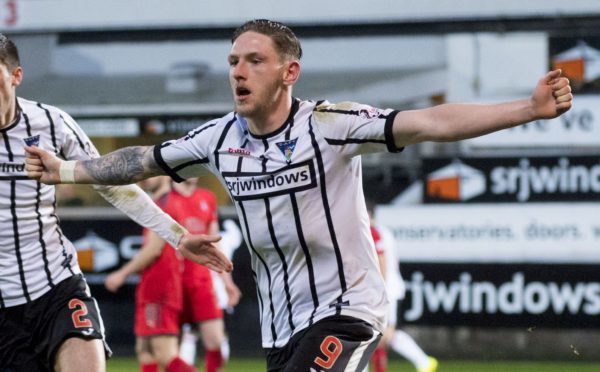 Dunfermline striker Declan McManus netted his 50th senior goal against Falkirk – and has dedicated the victory to team-mate Dean Shiels.
McManus grabbed the second in the Pars' 2-0 triumph that sends them to Dumbarton in a positive mood this afternoon seeking a third consecutive league win.
With the game being marred by the shameful throwing of fake eyeballs from the Bairns' support, McManus was thrilled to come out on top on the pitch.
The former Raith Rovers man said: "That's me scored 50 goals in my career now, but hopefully that's just the start and I can get at least another 50.
"I've scored four in the last five and five in the last seven, so I've done well in the last few weeks and it feels a bit better when you score and win the game.
"With Tuesday being against Falkirk it made it that wee bit more important that we did do it for the club, for the team, and to try to keep winning games to be where we want to be.
"But, obviously, it was for Deano as well.
"He's been through a lot in the last few weeks and there aren't many people who would have dealt with it the way he has. He has played brilliantly in the last few weeks.
"We're all pretty tight anyway. As team-mates you've always got to protect and help your team-mates. They're not just your team-mates, they're your mates outside of football as well.
"We wanted to do it for Deano – but we wanted to get the win first and foremost, with it being a derby and with us needing the points."
The Pars eased to a 4-0 win at Dumbarton earlier in the season but suffered a disappointing 2-2 draw at home to the part-timers in November.
However, McManus is confident they can make it a hat-trick of victories in recent weeks if they can hit the heights they reached against Falkirk.
He added: "I think most teams struggle there but we did well at the start of the season to win 4-0 and hopefully we can go and play the way we did on Tuesday."