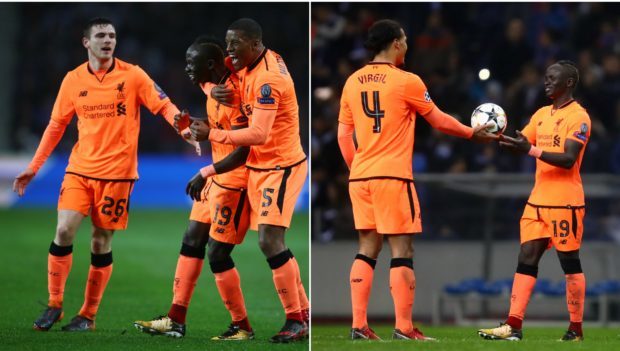 Former Dundee United star Andy Robertson had to rescue the match ball for a team-mate following his Champions League debut on Wednesday night.
The Liverpool left-back, who played the full match against FC Porto, stepped in to grab the football from a Portuguese ball boy following the Reds' 5-0 victory at the Estádio do Dragão.
Teammate Sadio Mane returned to top form by scoring a hat-trick during the match, but was too slow to grab the ball when the final whistle was blown. His three goals had entitled him to claim it.
Robertson said he had to "go running" after spotting a ball boy making off with Mane's trophy.
Speaking to the Liverpool FC website, Robertson said: "I had to go running after the ball boy for his ball at the end. He was nearly upset. Luckily, I managed to get it.
"They were three class finishes from him. Mo and Bobby have stolen the headlines in the last couple of weeks. But Sadio is on my side [of the pitch] and he is a workhouse, he works so hard.
"He took the limelight and got his three goals."
Afterwards Robertson kicked the ball to fellow defender Virgil van Dijk, who passed it on to a delighted Mane.
Some have speculated the youngster was only retrieving the ball from the pitch and wasn't trying to claim it for himself.
Following the game, Robertson posted to Instagram: "Great result and performance from the boys, clean sheet and some great goals! Delighted to make my Champions League debut. Thank you to all the fans that travelled #YNWA."
The Scot was one of United's stand-out performers during the 2013-14 season before being sold to Hull City. Jurgen Klopp brought him to Liverpool on a £8 million deal in July last year.
Many praised Robertson for his actions following the Champions League match, while others criticised the former Tangerines man for not letting the young ball boy claim the prize.
Mane almost missed out on a special souvenir last night – but Robertson ensured he took home the match ball. ?

? https://t.co/6OwWckoFPH pic.twitter.com/MqKITjLScS

— Liverpool FC (@LFC) February 15, 2018
Andy Robertson proving again what a team player he is. A young ball boy thought he had a memento for himself, Robertson quickly spotted him and made sure the ball was delivered to Sadio Mane. A souvenir of spectacular night.

— Dominic King (@DominicKing_DM) February 14, 2018
Yay Andy Robinson. Destroyed a young lads dream but got a multi-millionaire a keepsake.

— MarcoSilvaCanShagMyWife (@FinKitch) February 14, 2018
https://twitter.com/latinclaps/status/963897821136084995
However most football fans were in agreement that it was another fine display from the Scotland international.
Lovren and VVD solid, allowed the likes of Gini and Hendo to play more forward and we all know what that means, Mane Bob and Sallah attack ? but #MOTM for me Andy Robertson ???#LFC #ucl

— Mr@sh (@MrAsh74) February 14, 2018
Take nothing away from us, Porto were catastrophic but we really made that count. Big up Mane and big up Andy Robertson too.

— Joe (@Fauxmino) February 14, 2018
Dazzling display from a magnificent Liverpool side in Porto. Hat-trick hero Sadio Mane simply irrepressible & Andy Robertson superb.#lfc 5-0

— Brian McNally (@McNallyMirror) February 14, 2018
Andy Robertson has been outstanding tonight. He is a top-drawer left-back. Mané, Salah, Firmino all brilliant tonight too. Never did I think Liverpool would score 5 tonight.

— Michael Jones (@Jones7M) February 14, 2018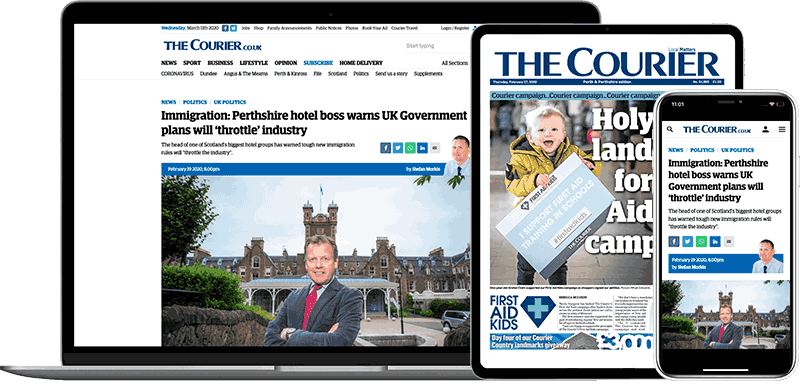 Help support quality local journalism … become a digital subscriber to The Courier
For as little as £5.99 a month you can access all of our content, including Premium articles.
Subscribe