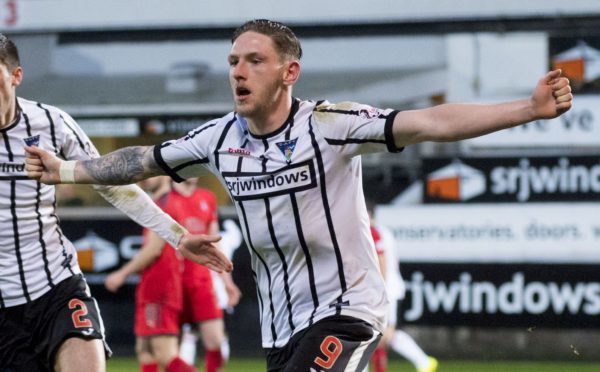 Declan McManus was left stunned by the red card shown to Dunfermline teammate Lee Ashcroft but insists it should not affect them when they head to Tannadice.
The Pars were the better side in Tuesday's Premiership play-off quarter-final first leg against Dundee United at East End Park until Ashcroft was sent packing for a supposed last-man foul on Tangerines frontman Scott McDonald.
Referee Bobby Madden's decision shocked and angered the home players in equal measure.
It also turned the tide against them, even though United could not find a goal and the scoreline stayed at 0-0.
The club have appealed, thereby freeing Ashcroft up to play in the return due to the hearing not taking place until a week today.
McManus doesn't want the row to overshadow the task in hand tomorrow night.
The striker, who was man-of-the-match despite starting the game on the bench, said: "Everyone was in disbelief because on the pitch I honestly thought it was a freekick to us.
"Bobby (Madden) said on the park that he would go back and look at it because I think he could tell by our reaction.
"I think he was the only one in the whole place – apart from a few United boys obviously – who thought it was a foul, never mind a red card.
"It was a bad decision.
"I have seen the video and personally I think it should be overturned.
"That is not up to me – that will be up to the powers that be.
"We can't afford to focus on that anyway.
"We just have to concentrate on the game because it will come around very fast and we need to get the job done."
There is still a fair bit of confidence running through the Pars despite United's unbeaten run against them stretching to 14 competitive matches.
McManus said: "I thought for most of the game we were by far the better team.
"Going down to 10 men killed us a bit but when with a player less we still created some good chances.
"We believe we can go through on Friday.
"We thought that before the game on Tuesday and we still think that.
"A 0-0 draw isn't a bad result in any way, shape or form, even though it feels like that a bit because of the way the game was going before the red card."
McManus feels United might just wilt under the weight of expectation on them before their own fans tomorrow.
He said: "Is all the pressure on United? You could say that.
"If they feel the pressure then fair enough but we will just approach things the same way.
"I didn't know before the game that their manager said we were the favourites and I don't think their fans will be happy with a comment like that.
"But we are just going into every game like we have over the last 10 weeks.
"We are working hard, have been very hard to beat and hopefully come next week we are the team who are still in.
"Our defence has been brilliant lately so we will need another good performance on Friday.
"If we are hard to beat then with the players we have going forward then I think we can cause them problems.
"We created a lot of chances and their keeper kept us out with two or three unbelievable saves.
"Hopefully, in the next game we will be able to put a few of them away."