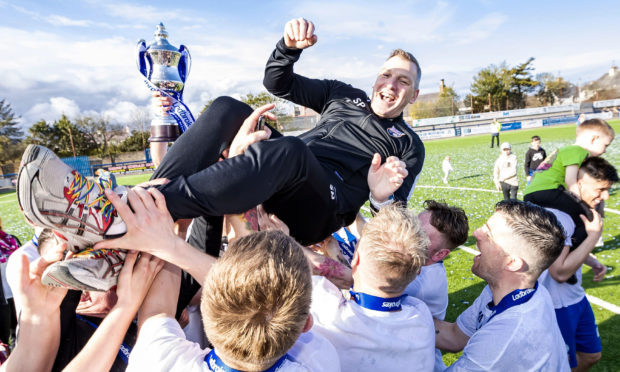 No-one who was at Links Park on April 28th as Montrose clinched only the second league title in their history will ever forget the incredible scenes of joy on and off the park at the final whistle.
Considering that the Gable Endies had come within a whisker of going out of the SPFL altogether just three years earlier in the inaugural pyramid play-off with Brora Rangers, the change in fortunes was remarkable.
Central to that transformation was manager Stewart Petrie.
The 48-year-old took over at Montrose in December, 2016 with the club once more rooted to the foot of the League 2 table.
Now, just a season and a half later, he has guided Montrose to promotion but Petrie insists his work at Links Park with his assistant Ross Campbell and coach Sean Dillon has only just begun.
The manager said: "I don't think it matters what job you are in you should be ambitious.
"At this moment in time, I am over the moon where I am with Montrose.
"There is still a whole lot more to achieve – we have only just got started.
"We probably got the promotion quicker than we thought we would but we were certainly not going to pass it up when we got the opportunity.
"Yes, I am ambitious but there is certainly no rush for me to leave Montrose, that's for sure.
"I still have a lot of work to do at the club.
"You have to be mindful the way that management is, four or five defeats and you are staring down the barrel.
"We have had a great run but going up a league will be tough so all we can do is concentrate on getting a good start in the first quarter and gathering as many points as we can."
Petrie admitted he had been taken aback by just what the promotion success meant to fans of the club and that the full extent of the achievement hadn't sunk in yet.
He said: "Not quite. I would be lying if I said it had.
"What the club have achieved, the town is still buzzing. It has been a great few weeks but we have to get back down to business and start building the squad for next season.
"But it will sink in at some stage, I have no doubt.
"I was at a charity golf match the Sunday prior to the Elgin game. I was golfing with guys from one of the pubs in Montrose.
"One of them was a lifelong fan but he was going offshore on the Friday.
"He was absolutely gutted at missing the Elgin game.
"He had been a fan for 22 years so it does sink in a bit when you talk to guys like that.
"It means so much to people in the town, especially ones who have been connected with the club for years.
"It is them that I am so happy for along with the fans who have waited a long, long time for it.
"We now have a big challenge next season in League 1.
"We will be in against clubs who have better players and bigger budgets so it is up to us to recruit as best as we can."
Petrie is still fondly remembered by Dunfermline fans for his 10 years as a player at East End Park and he also had stints as an assistant manager in Australia and with Arbroath.
He had waited patiently for his chance as boss of a club and Petrie admitted as soon as he spoke to the Montrose board and chairman John Crawford, he was determined to take the Links Park post, despite the club's lowly position at the time.
He said: "It was a job that really attracted me. I was desperate to get a wee shot at it.
"After the interview as soon as John phoned me on the Sunday afternoon, it was the easiest decision I have ever had to make in football.
"There wasn't even a discussion about wages or anything, I just said, 'Yes, I will definitely take it'.
"The first thing I had to do was probably just to lift the spirits and the tempo of the place.
"It is not just the players, it is the board of directors, the supporters, the staff.
"You just need to breathe that bit of life into them.
"There were some great players and good people at the club so it wasn't hard to do that."
Petrie recently signed a contract extension that should keep him at Montrose until 2021.
However, if his meteoric rise in management continues, he is certain to pop up on the radar of bigger clubs.
He currently combines being boss at Montrose with working for the Bank of Scotland and he admitted he would have a lot to think about if a full-time outfit came calling in the future.
He said: "Yes, I would have a big decision to make but that is certainly not at the forefront of my mind at the moment.
"Don't get me wrong, being a full-time footballer is a great lifestyle.
"Management is a bit different right enough and you don't just go home after training.
"But yes it is something . . . that's what you do all your badges for.
"You would like a crack at it but as I said, that's possibly a long, long way away."