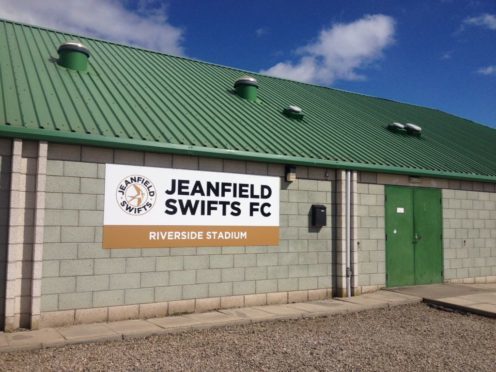 Jeanfield Swifts manager Ross Gunnion is hopeful that his team can hit the ground running in their first season as a senior football club.
And the pulling power of their new status is already being seen.
The Perth side's switch from the junior ranks to the bottom of the SPFL's pyramid system in the East of Scotland League was rubber-stamped on Thursday night, as was St Andrews United's.
The EoS League will have 39 teams taking part next season, playing across three conferences.
Jeanfield and St Andrews will both be in Conference C, along with Preston Athletic, Heriot-Watt University, Stirling University, Ormiston, Linlithgow Rose, Broxburn Athletic, Camelon, Blackburn United, Edinburgh United, Craigroyston and Inverkeithing.
And Gunnion believes there is every reason for Swifts to be confident that they can compete at their new level from day one.
"This has maybe come sooner than we expected," he said. "But we are geared up for it.
"I would be confident that, as a whole, it won't be a harder league in isolation than the Super League.
"If we can get in the top five that will help us when the conferences are realigned the following year.
"I think very quickly tier six of the pyramid will be as strong as the Super League.
"There's no doubt there's a real buzz about what we're doing, especially when you consider that we're the only team in the Perth and Dundee area which has made the change.
"Already I've had four Dundee Super League players who have agreed to join us despite the fact they could make more money elsewhere.
Kelty Hearts are making rapid progress on their conversion from juniors to seniors, and are one promotion away from the SPFL, but Swifts will be taking a different approach.
"We're going down the community route," he said.
"We've got something like 22 teams at Jeanfield Swifts and being chosen as an SFA pilot club to develop our facilities is a big thing.
"We are already geared up for it in a lot of ways.
"Ballingry spent a fortune on players a few seasons ago but didn't invest in their infrastructure.
"We won't be able to compete with the likes of Kelty in terms of wages but hopefully we will be able to compete in terms of our facilities and being part of the community.
"Perth is growing all the time. There will be another 10,000 houses built to the north of the city.
"We hope the North Muirton community and the wider north Perth community support us on what we hope will be the beginning of an exciting journey."
The pathway is now there for Swifts to play their football in the SPFL, so how high are their sights set?
Gunnion said: "St Johnstone are a Premiership club and we would be fooling ourselves to say we are going to compete with them.
"But with there being no other Tayside teams at our level that gives us an opportunity.
"The Lowland League is definitely attainable and, if we get our licence, there is the possibility of Scottish Cup runs.
"If we progress the opportunities are there and there isn't a ceiling."