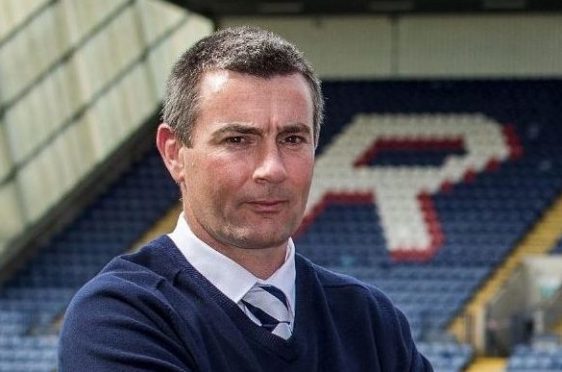 Barry Smith has expressed his frustration that despite Raith deciding to remain a full-time club this season, they are struggling to compete with part-time outfits for transfer targets.
The Stark's Park manager pulled off a major signing coup on Tuesday when he snapped up former Hamilton and Dundee United midfielder Grant Gillespie on a two-year contract.
However, another potential deal for striker Rory Loy fell through when he moved to Rovers' League 1 rivals, part-time Dumbarton.
It is understood the deal for Loy came with a job, meaning Raith could not compete financially.
The manager admitted that is just a stark fact of life and he has already turned his attention to other potential targets.
Smith said: "We obviously spoke to Rory Loy but he has decided to go to Dumbarton based on finance.
"He can get a good wage there and they have offered him a job, I think.
"It means he can earn a lot more than we can offer. So his decision was to go part-time.
"It is frustrating from our point of view because we think offering him full-time football is a good thing.
"But when it comes down to it, guys have to look after their families, their security and if that means they also have to go and work, then they have to do that rather than stay full-time and just get by.
"A lot of players are now thinking they can make good money being part-time and with a job earn more than they would at a full-time club.
"It is frustrating from our point of view as we know Rory Loy would be a good addition for us but ultimately, he has to look after his best interests.
"But when one target falls through, we have somebody else in mind.
"It is difficult though as you feel offering full-time football is a good thing but in reality the money that is being offered elsewhere sometimes dictates where boys go."
However, Smith was pleased that he had managed to land another target, 26-year-old Gillespie.
The manager added: "I am delighted to sign a lad with Grant's quality and experience.
"It is great he has decided to come to Raith. He has played over 200 games for Hamilton and more than half of them have been in the Premiership.
"He will be really valuable to us this season. Grant is determined to come here and do well.
"We have been fortunate that a guy with his experience wants to come here.
"He probably had better offers from elsewhere.
"I think the fact he has come here shows his determination and desire to win things.
"So we are delighted to have him on board and his Premiership experience will help the younger ones.
"At the moment, we are looking to bring in another five – a goalkeeper plus four others.
"We know the guys we want to get in."