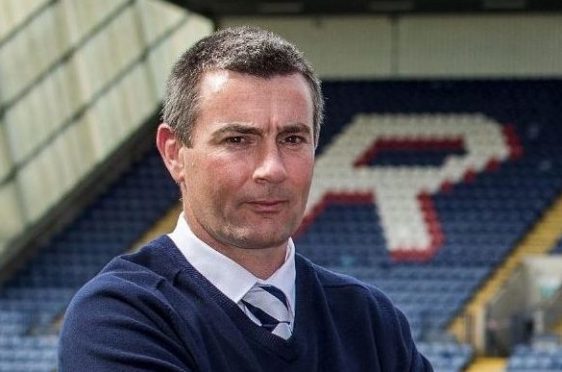 Raith Rovers chairman Bill Clark has revealed he twice tried to persuade Barry Smith to reverse his decision to quit the managerial hot-seat at Stark's Park.
The 44-year-old former Dundee boss stunned the Kirkcaldy club on Tuesday when he handed in his resignation shortly after taking training that morning.
Clark admitted he was as shocked as anyone that Smith had decided to walk away at a time when Rovers are equal on points with league leaders Arbroath having won their last two games scoring eight goals in the process.
However, the manager admitted he had been unhappy with life at Stark's Park for some time and the chairman was unable to talk Smith round.
Clark and the rest of the club board reluctantly accepted his resignation with the search for a successor now underway.
The chairman said: "It came as a great shock to everybody including myself.
"I had no idea this was coming, not a clue. I spoke to Barry after training on Tuesday and he said to me could he have a word.
"We always speak after training as he gives me an update on injuries and things like that but we went into his office and he handed me his letter of resignation right out of the blue.
"I asked him twice in the meeting to withdraw his resignation but he wouldn't do it.
"Once his mind is made up that's it but I did ask him twice.
"Barry has decided for his own reasons that he wanted to go.
"We've very reluctantly accepted it. There were certainly people (directors) who didn't want to accept his resignation."
---
>> Keep up to date with the latest news with The Courier newsletter
---
While Smith may have been unhappy with life at Stark's, the chairman denied there had been any interference in football matters from the board or that budget constraints had been an issue.
When asked why Smith had left, Clark said: "He wasn't enjoying himself here basically and hadn't been for a long time.
"He wasn't happy at Stark's Park.
"But nobody tried to interfere with how he ran the football side of things.
"We also agreed a budget with him at the start of the season and he said he could put together a team within that budget that would do well.
"I think he has got a very strong team for the money that was available which was probably the most that a League 1 club could afford.
"We are still trying to wrestle with exactly why (he left). To be honest only Barry knows why in detail.
"He is a quiet, sensitive guy who I have got to know well over the last 15 months.
"He keeps things to himself and I respect that so I am not going to say anything about his motives for going. That's up to him if he wants to say any more.
"There have been suggestions that it was a breakdown in communications with the board over the last few weeks, well I don't think anything could be further from the truth because we have all been happy with the way things have gone.
"The board has backed him. We gave him a budget which he has spent.
"He was looking for another player over the weekend and he knew he had the money to do so which makes it more confusing as to why he has gone now.
"Some of the comments that are being made are not based on fact.
"We parted amicably. Barry phoned me up at home last night and we had a good discussion.
"We are still speaking to Barry and he is still speaking to us. It has not been a nasty breaking up."
Assistant boss Kevin Cuthbert will take the team for tomorrow's IRN BRU Cup tie in Dingwall against Ross County with Clark revealing there has already been a steady flow of applications for the vacant manager position.
He added: "We have a board meeting on Monday where we will look at a specification for the kind of manager we are looking for.
"We have had 14 applications so far from some in jobs and not in jobs at the moment and from as far afield as Iceland and Canada.
"We will not be rushed into anything but the ambition of the club is still to definitely get promotion this year."
Meanwhile, Cuthbert insisted that all his focus is on tomorrow's game and not on whether he would put himself forward as the next permanent Raith manager.
The former goalie said: "When I spoke to Barry on Tuesday and found out his intentions, it was a big disappointment for me but straightaway you have to move on.
"It was a shock but Barry obviously felt strongly and that's the way it went.
"All I can do is try to prepare the players for Saturday.
"Barry has given me good advice and I spoke to him this morning before training.
"I look up to him and he has been brilliant with me.
"I just need to look forward."
When asked if he would throw his hat in the ring for the manager's job, Cuthbert replied: "All I am doing is focusing on the game.
"The last 48 hours has been dedicated to preparing the boys for Ross County."