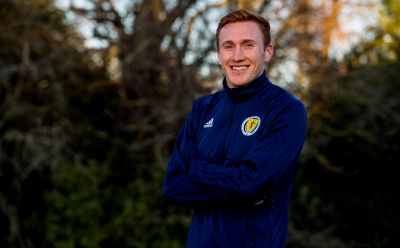 Hamburg defender David Bates is ready to ride to injury-ravaged Scotland's rescue.
The Kirkcaldy-born player, who was on the books of hometown club Raith Rovers as recently as January 2017, has been a huge hit in Germany since switching from Rangers in the summer.
The 22-year-old centre-back has helped Hamburg to the top of Bundeliga 2, with the locals labelling him Ginger Ramos after Real Madrid and Spain legend Sergio Ramos.
Bates, who also had a loan spell at Brechin City three years ago, now stands of the brink of a full Scotland cap as a result of the selection nightmare that has haunted national coach Alex McLeish ahead of the Nations League double-header against first Albania then Israel.
Blackburn's Charlie Mulgrew has already withdrawn from the squad and fellow central defender Mikey Devlin is expected to join him because of injury.
That leaves Bates as almost the last man standing at the back, certainly when it comes to right-sided players.
He insists he won't let anyone down if he is asked to start on Saturday in Shkoder and/or three days later against the Israelis at Hampden.
Asked what he would say to McLeish is he told him that he would be getting his first cap in Albania, Bates wore a big smile and replied: "Err, thanks very much!
"Seriously, I feel totally ready.
"I have been playing every game for Hamburg except for a couple and I think I have come on a lot as a player.
"I have learned a different style of play in Germany.
"It's not go in behind or kick it maybe longer if you are under pressure.
"It's more a case of play out from the back and in training you always practise that with the ball.
"There are very technical players around so they can make that easy for you.
"So I have come on technically, I would think.
"It's been brilliant, probably the best decision I could have made.
"I would totally recommend it. To step out of your comfort zone and learn your trade somewhere else is the best thing I could have done.
"I am playing at a high level week in, week out.
"Also, I have played in Old Firm games and now Hamburg v St Pauli about a month ago so I've already experienced some big games in my career.
"I think you just go into every match with the same attitude and try to do your best.
"You don't think about the occasion too much, really.
"I never really thought about the future when I was younger, about making that big jump.
"I never would have thought that I would be in Germany playing my club football or being here with the national squad.
"However, I definitely feel ready to start for Scotland."
Bates has certainly served a thorough and varied apprenticeship on his way to Bundesliga 2.
He started out at Stark's Park and had loans spells at East Stirling and Brechin, before securing the big move to Rangers – via a development loan – and then one of Germany's most famous clubs.
He is loving life on the continent, learning the language and starting almost every game this season.
Bates added: "I liked the Old Firm goldfish bowl thing when I was here because I got to play at the top level.
"Hamburg is the same.
"It is similar to Glasgow, with the media and the fans.
"You also need to win every game.
"Obviously our manager (Christian Titz) got sacked after eight games and we were sitting third in the league so that just shows you how much they want to win.
"They want to win the league and obviously we are sitting top now by three points.
"I think the size of the club means we should be up there, also the quality of player, fanbase and everything about it.
"The derby against St Pauli at our place was great.
"The day before at training we had 2,000 fans there – all the ultras. They make the atmosphere at the games very good.
"It was a 0-0 so obviously there weren't many chances in the game so the atmosphere maybe didn't reach the level it could have done.
"They (St Pauli) have quite a tight stadium, so I've heard, maybe a bit like Tynecastle. So it should be good when we go there."
So what about Ginger Ramos? Light-hearted compliment or an anti-redhead slur?
Bates is just fine about it, explaining: "I was actually at Rangers when that happened!
"All the fans used to say it and it was a good laugh. It just stuck.
"Even a couple of the players would say it to me in training and stuff.
"A few boys in Germany now say it for a wee joke. It's just a laugh."