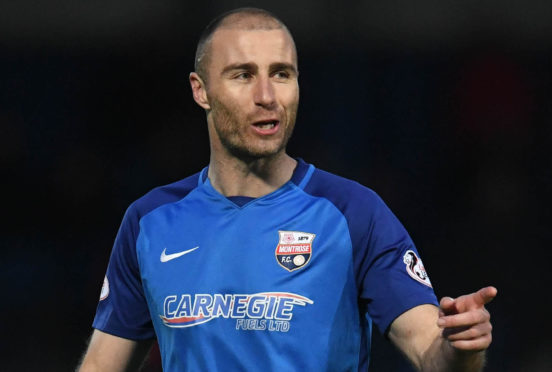 Sean Dillon is edging close to his 36th birthday but Montrose manager Stewart Petrie believes there is "plenty of football left in him".
The former Dundee United captain gave a central defensive masterclass in the Gable Endies' shock 1-0 Betfred Cup win against Premiership St Johnstone on Tuesday night.
The Irishman used all his experience to make sure the Montrose defence kept the Saints attack at bay.
There were plenty of other outstanding performances in the home team but Dillon was the obvious man of the match.
"I thought Sean was outstanding with the boys around him," said Petrie.
"His influence is massive.
"Towards the end of last season he was in and out with injuries.
"But when you see him perform like that you appreciate he's an outstanding player.
"Sometimes we try to pass it a bit too much at the back as a team but I'm certainly not going to knock that out of them because that's what we want to do as a team. Sean's a big part of that.
"There is plenty of football left in him and we want to see him playing here for a considerable time."
Terry Masson's winning goal was a stunning finish but Petrie was keen to highlight the part played by the man who set him up.
"Young Blair (Lyons) is a talent," said the Montrose boss.
"He wants to go and take players on and get at them which you don't see too much these days."
It was the stand-out cup result for the Angus side of recent years, given Saints' consistency in the Premiership and in knockout competitions but Petrie's main focus is getting his side ready for the start of the League One campaign.
He said:  "Our fitness levels are excellent and that is a credit to how hard the boys have worked.
"It's early season so we're not going to get carried away – St Johnstone are building up and so are we – but it's always a big thing when you can beat a really big Premiership team."