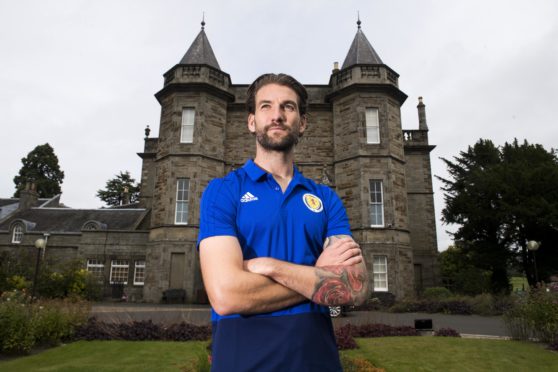 Charlie Mulgrew has claimed he is the right man to deal with giant Russian striker Artem Dzyuba.
Dzyuba was one of his country's stars in their successful home World Cup campaign last year, scoring against Saudi Arabia, Egypt and Spain.
Standing tall at six foot five inches, the Zenit St Petersburg player promises to be a threat when Scotland hosts the Russians in their Euro 202 Group 1 qualifier at Hampden on Friday.
Mulgrew, though, has faced Dzyuba in the Champions League in 2012 when he was at Celtic and the striker was playing for Spartak Moscow.
The Scot came out on top back then, with the Hoops qualifying for the next stage, and he intends to do so again.
Mulgrew, now playing his club football at Wigan Athletic, said: "I played against him before when he was at Spartak Moscow.
"He is a big tall striker and probably somebody who needs dealt with but I'm happy to do that if called upon.
"You need to do what you need to do.
"A lot of international football is played along the ground and from the back but if that's the way they play (through Dzyuba) then we will deal with it."
Mulgrew, meanwhile, revealed that his switch from Blackburn Rovers to Wigan was unexpected to say the least.
He explained: "It just happened last minute. It came out the blue.
"I spoke to the manager, we had a discussion, and then that afternoon Wigan came in.
"It came as a shock, I was sitting in Starbucks at three o'clock with (former Celtic teammate) Paul Caddis and I got a phone call about it.
"Funnily enough, my (phone) battery ran out on the way to the training ground.
"So I never had a phone and I never had the postcode, so I was asking people where the training ground is!
"It was old school. I ended up asking three people where the Wigan training ground is.
"One sent me the wrong way but eventually three wee boys put me back on track and sent me the other way.
"It was down a wee dirt road and it's hard to find so the secretary was out on the road and flagged me in.
"I ended up signing with a minute to go and it still wasn't cleared until the next morning. It was a bit mental.
"Those wee boys sorted me right out so I'll go in for a carry oot for them next time I see them!"