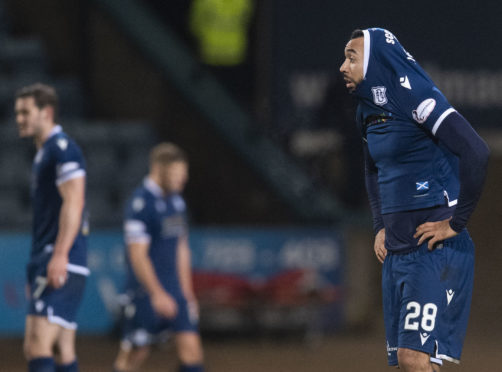 In this week's Talking Football Ian Roache and Eric Nicolson discuss the Dundee boo boys and the football they are being served up, Dundee United's three-week break and St Johnstone's battle to stop the bleeding before they get to the January transfer window.
Dundee snatched defeat from the jaws of a draw. How did that happen?
IR: I counted five kicks for Queen of the South between the ball being re-spotted after Danny Johnson's equaliser for the Dark Blues and the winner hitting the back of the net. Three of those came from scorer Stephen Dobbie. I'm not sure if I can ever recall seeing a goal similar to that one, where one team pulls level in injury-time but manages to blow it approximately half a minute later. It was unacceptable and soul-destroying for the supporters.
EN: It was awful to watch, alright. With a couple of days' reflection, there is a bit of mitigation for Jordon Forster, though. Kind of. Putting the ball straight out would have probably seen the final whistle blown. Dundee needed to mount one last attack because a draw wasn't a satisfactory outcome so he has taken a chance.
Is it fair to blame an individual error from central Jordan Forster for the second goal and defeat?
IR: He did make an absolute hash of it but there is no way one person can be blamed for the overall result. There is much more to it than that. There was a collective failure to perform in what should have been an extremely winnable home match.
EN: There were few to emerge with pass marks from that game. Jack Hamilton, Danny Johnson and Finlay Robertson were the only ones, I'd say. Defensively Dundee were worse in the McGhee/Mackie channel than the Forster/Kerr one.
Queens match winner Dobbie felt the early booing from the home fans helped the visitors. Discuss.
IR: Dobbie, as usual, is bang on. The booing would have given the opposition encouragement. Mind you, the Dundee supporters are getting their patience tested big time by their team so I can understand why it happened. Everyone is frustrated. The players just seem so vulnerable to setbacks.
EN: I gave my thoughts on this one in Monday's paper and I haven't changed my mind. Booing at full-time, fine. Booing during the match when the players need your support, not so fine.
Do you think anyone inside Dens will, realistically, think they can still win the title?
IR: It's a no from me. It has now passed the stage where they can be considered realistic championship contenders and I didn't expect to be writing that after Christmas never mind three weeks before. They may still be some optimists hiding somewhere but results don't back them up.
EN: No. That ship has sailed. It's all about making sure getting into the play-offs doesn't become too close for comfort and making sure the team is more robust and decisive if and when Dundee are in those play-offs.
The Dark Blues go to Gayfield on Saturday and a win for the Lichties will see them leapfrog the visitors. Dundee will be dreading this, will they not?
IR: They may well be and the main reason will be because Arbroath are a pretty decent Championship side. Funnily enough, when the fixture list came out it was probably a game the Dundee supporters fancied because of the short distance, local hostelries etc However, something tells me the Lichties will be looking forward to this one more than their nearish neighbours.
EN: I think dread is taking it too far. There could be a bit of a siege mentality at Dens now and that would be no bad thing. With a couple of players back, I still make Dundee favourites for this one.
Do you think Dundee United would have rather have played at Greenock on Saturday, despite injury ruling out Lawrence Shankland?
IR: Absolutely. I get the feeling the Tangerines would play every other day just now if they could because they are flying. It will, though, be nice to have a fit Shankland available for the rescheduled fixture.
EN: If United were going into a game against Ayr or Inverness after a three-week lay-off I'd be a bit concerned for them but not Alloa at home. On a broader point, United will benefit from Arbroath's rearranged game at Ayr taking place a few days before they travel to Gayfield.
It just means they will be the Tannadice players will be that bit keener to get out and take care of Alloa this weekend, does it not?
IR: Yes, I would agree. United will be big favourites to sting the Wasps and make up just a little bit for the away defeat earlier this season. Like when they played Queens, you can expect revenge to be a dish served cold in the form of a comfortable victory.
EN: I don't think they'll be any keener because of another free Saturday, I just think they would fancy their chances of extending the 100% home record even if it had been a month.
St Johnstone's fixtures don't get any easier as they head to Kilmarnock but they really have to get their act together don't they?
IR: That was a demoralising 4-0 defeat at Motherwell, a place where Saints quite often do well. Some solace may be taken from other clubs still being around them but I think that is dangerous. I recall when United went down that a lot of the narrative was about how they were still in touch with the likes of Killie in the drop zone. Before they knew it the games started to run out and we all know what happened.
EN: My hope for Saints in December is that they're still in a similar league position at the end of the month as they are at the start of it. Get to January still in touch with three or four clubs and I'd be confident the transfer window will ensure the improvement needed to pull away from trouble. Significant damage could be done before then, though, if they're not careful.
Do you think most of Saints' training over the last couple of days was taken up with defending cross balls?
IR: The defending was shocking, wasn't it? There are a lot of games between now and the opening of the January transfer window so the players currently in the side need to sort it out before fresh blood arrives next month.
EN: Liam Gordon's return should help in that regard. I wouldn't be surprised to see his return at Rugby Park. The centre-backs haven't been aggressive enough in attacking the ball in their own box but the failure of the full-backs to get their bodies in front of crosses has been equally lamentable at times.
As the weeks go by, is it right to be more and more concerned about Brechin?
IR: I think, if it hasn't happened already, then it is beginning to dawn on people who are involved in and follow Scottish football that a lot of our long-established league clubs are now extremely vulnerable because of the strength that lies in the Lowland and Highland Leagues. City are now eight points behind Stenhousemuir after losing to them on Saturday and four adrift of second-bottom Albion Rovers. Two wins in 21 matches this season – these are worrying times at Glebe Park.
EN: There have been bigger season turnarounds than the one Brechin need to finish second bottom but I'm already starting to look at the top of the Lowland League table. The fact that Mark Wilson would gladly take a lot of the Kelty Hearts players and that the teams who knocked East Fife and Montrose out of the Scottish Cup aren't the best in that division tells you all you need to know about the importance of avoiding that play-off.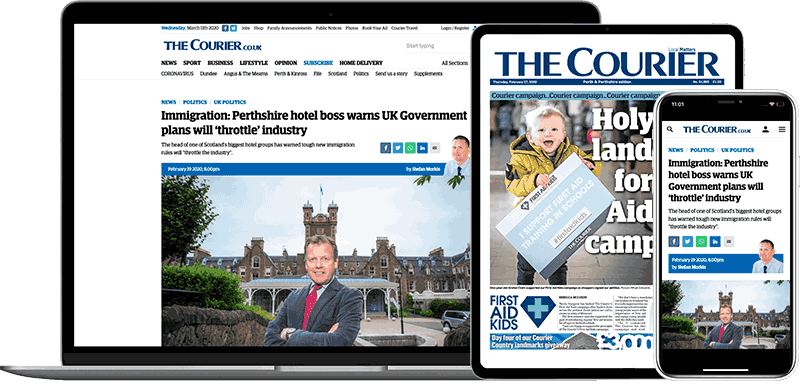 Help support quality local journalism … become a digital subscriber to The Courier
For as little as £5.99 a month you can access all of our content, including Premium articles.
Subscribe