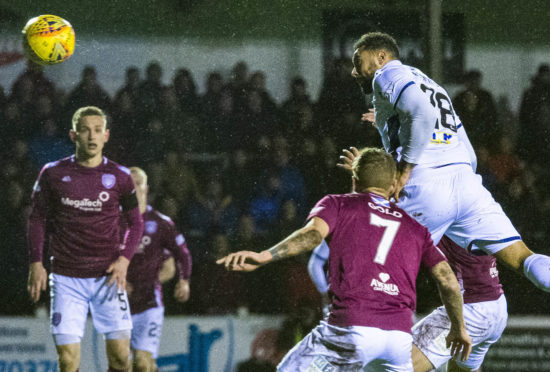 Kane Hemmings believes the Champiosnhip title is now beyond Dundee.
The Dark Blues' striker was on target at Gayfield on Saturday as James McPake's side drew 1-1 with Arbroath.
On the plus side, his goal was a terrific header that helped stop the rot after three successive defeats.
On the other hand, Bobby Linn's excellent opener was enough to earn the home side a deserved draw and leave the fifth-placed Dens men an eye-watering 14 points behind leaders Dundee United, who also have a game in hand tomorrow night away to Morton.
This isn't how it was meant to be for Dundee, the team that most people predicted would push the Tangerines all the way this season.
However, it looks to be all over before Christmas presents have been unwrapped, at least as far as the automatic spot is concerned.
Hemmings said: "Listen, I think if we are honest we need to go for the play-offs now.
"Talking about promotion is the last things on our minds at the minute.
"I think, first and foremost, we need to put a run of games together like we did before when we won three in a row.
"We need to remember what that feels like and get back to doing the basics well.
"It is about putting teams under more pressure.
"They went 1-0 up and it was a good goal from the boy – everyone in the world knows what Bobby Linn is going to do.
"So we needed to stop it but we could easily have crumbled and said that it's another game gone by and another defeat.
"But we showed fight and no one can ever take away from us the effort we put into each game. The results obviously haven't been there but no one who comes to watch our games can say there is a lack of effort.
"I think a draw was a fair result.
"It was the same, really, as the last few weeks."
Hemmings was frustrated by the lack of good delivery to the forward area, with the notable exception of the excellent cross from Cammy Kerr that the striker nodded into the net for the equaliser.
He said: "I think we need to do more as a team going forward.
"I also think we can do better to stop teams counter-attacking us.
"We are not sustaining our own attacks and that is leading to us not creating anything.
"The ball goes up and it comes right back.
"We had one good ball in – from Cammy – all game and is that enough? We need to do more if we want to get results and start climbing up the league.
"It is something we work on and it's something I will be on at people about.
"We need to be getting the ball into the box earlier in order to give, not just me, but other players a chance to get a finish."