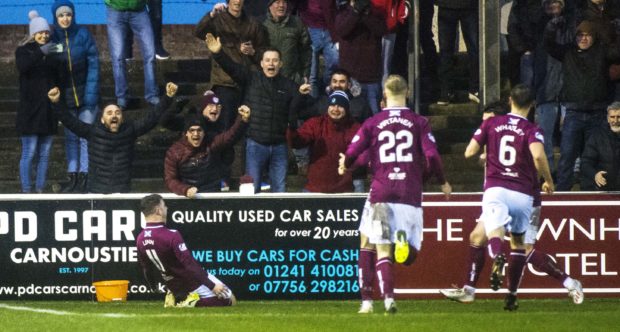 Bobby Linn almost blushed when he was told his name had just been dropped into the same sentence as that of the great Lionel Messi.
Linn, of course, is far too modest to suggest that his goal against Dundee would have been one to make Barcelona's six-time Ballon d'Or winner proud.
His manager Dick Campbell, however, has no such qualms.
The Lichties boss had just watched Linn curl a beautiful shot past Dark Blues' goalkeeper Jack Hamilton, which had the home team leading at Gayfield on Saturday until Kane Hemmings equalised for the visitors to make it 1-1.
A grinning Campbell: "As for Linn's goal, Messi would be happy with that!
"You knew he was capable of doing that.
"Bobby empties dustbins every day and he is as enthusiastic as a 15-year-old kid.
"He is a great player and a great influence at this club. He is a really popular guy at Arbroath."
You know what? Campbell was right. Messi actually would have been happy with Linn's strike.
Why wouldn't he be? It was a terrific, curling shot from a corner of the box from the former Dundee player that gave Hamilton no chance with 37 minutes on the clock.
Told about the star-studded endorsement given to his goal by his gaffer, Linn said: "No, he wasn't saying that to me!
"He was in there saying that he was delighted with a point, while I thought it could have been three.
"It was obviously a nice goal.
"What happened was that I had taken Cammy (Kerr) down the side a few times before so I was trying to mix it up.
"When I took the touch, I moved the ball inside and felt that the goalie's sight was covered so I just hit it.
"Thankfully, it went in and I was delighted."
Linn works in Dundee and he joked that he would be "skipping" up the city's streets after scoring a cracker against his former club.
He said: "See working bin to bin on a Monday morning, I'm like: 'Get me to Saturday and onto the pitch!'
"In reality, when you work like I do during the day you can't wait to get out and train or play.
"You learn to appreciate playing a lot more as you get older.
"You have to make the most of it and that's how I feel playing against the teams we are facing in this league.
"I will be skipping to every bin this week after scoring that goal.
"There are a lot of Dundee and United fans in the work and there is good banter, especially with us facing both of them on successive weekends.
"In that (Dundee) game, I don't think you would know who the full-time team were and that's credit to our lads.
"Listen, a few years ago we were playing in League Two so to draw with Dundee you have to take the positives from that.
"To be mixing it with them here, we have to be happy with that."
The Lichties now have a trip to Somerset Park to play Ayr tomorrow night and if they win it then they will jump ahead of Dundee, who currently fill fifth spot in the Championship table.
As for the Dens men, they have now just taken a solitary point from their last four matches.
The form slump has ended their title aspirations barring some mathematical miracle and catastrophic collapse by leaders Dundee United.
The Tangerines moved a further two points clear of the Dark Blues and are now 14 ahead with a game in hand.
Second-placed Inverness have gone seven clear of them, while in-form Dunfermline are now three better off ahead of the meeting of the sides at Dens on Saturday.
Of the teams above them, only Ayr didn't gain any ground on them but the Hinest Men are still two points ahead and can widen that gap to five if they beat the Lichties.
These are worrying times for manager James McPake, who felt his men deserved to win the game because of their improved performance after the break.
He said: "I think on the basis of the second-half chances we deserved more.
"We had a couple of clear-cut ones but I thought they (Arbroath) were the better team in the first half – no doubt about that.
"There was a much of a muchness but they caused more threat to our box than we did theirs.
"In the second half, though, we had by far the better chances so it's disappointing that we never came away with the win."
McPake refused to blame the atrocious weather for the failure to take three points, saying: "Everybody talks about how it is a difficult place to come to because of the conditions but it is a tough place to come to because Arbroath are a good side.
"They have a lot of momentum carrying on from last season.
"Team after team have come here and found it very difficult because they have real threats in their team.
"Also, the conditions played as much a part for them as they did for us.
"All in all, I don't think the conditions mattered in terms of the result."
McPake revealed he did some tough talking to his players at half-time.
He added: "We challenged them and said that we needed more, that we had to see a bit of character.
"We came here on the back of three defeats and the players came in at the break 1-0 down.
"They were better in the second half.
"The one thing I will really stick up for them about is that they again showed real character.
"Was it enough? No because we didn't win but we still showed enough character to get back into the game, particularly after three defeats.
"It was a game we wanted to win.
"We did show a bit of character and heart in the second half even though it wasn't enough.
"We need to be getting back, quickly, to winning matches."