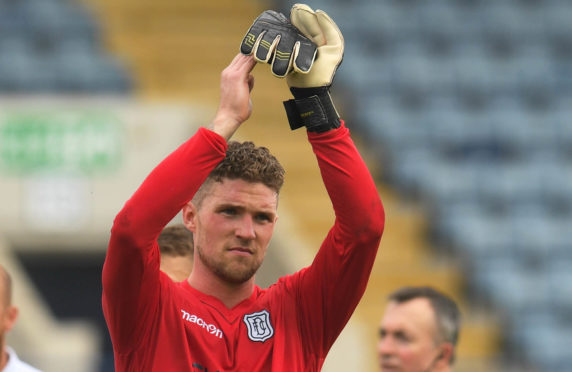 Dundee's players have cancelled their Christmas night out in favour of hard work on the training pitch.
The Dark Blues had been all booked up for a trip to Belfast to celebrate the festive season but goalkeeper Jack Hamilton has confirmed it won't happen.
Instead of flying over to Northern Ireland, the Dens men will concentrate on trying to improve on their sixth position in the Championship.
They host in-form Dunfermline this afternoon on the back of a run of just one point out of a possible 12 – the draw coming last weekend against Arbroath.
Hamilton said: "Obviously, we are looking at results and we are looking to get up that table.
"We were supposed to be going to Belfast but playing is our bread and butter – it's what we do.
"If that is the sacrifice we make to try to get there then fine.
"We have a great bunch of boys in that dressing room and a great manager – we are all in it together.
"We need to get over this wee run of games, when we have not picked up a win.
"We had stuff booked but it is what it is. It's not the be all and end all.
"A night out is not going to change anything and you would rather get out on the pitch.
"It was the players' decision. It had been booked but we were humming and hawing about whether or not we should really be going.
"It is more important that we get it right out there on the park than be going away somewhere."
Getting it right against the Pars won't be easy, of course, with the visitors having won their last three matches against Partick Thistle, Ayr United and Greenock Morton to move into third place in the table.
Hamilton added: "We could be doing with picking up more wins and putting more points on the board.
"Every game is difficult but we are going into them with the right mindset.
"We are working hard all week to try to beat these teams.
"We have not had the rub of the green but there is only so long you can say that.
"You need to actually start putting on performances and collecting points."
His teammate Kane Hemmings highlighted the lack of good delivery into the box in the wake of the 1-1 draw against Arbroath at Gayfield last week.
The keeper thinks you can point to other reasons for the lack of recent success, adding: "To score goals you need to get balls into the box and there are times when we have been doing that.
"There are loads of factors. You can't just narrow it down to the one thing.
"We look at things as a squad.
"I don't think we are far away from turning it around.
"Just four games ago we were on a run of three wins in a row. Everybody was saying then that it was fantastic and we need to get back to that."
The return of Hamilton after an appendix operation has provided one of the few positives for Dundee of late.
The goalie is certainly happy to be back involved, saying: "It is good to be back.
"It wasn't a great time for me and it just came out of the blue.
"There isn't much you can do about it if you need your appendix out.
"I am glad to be rid of it so that I can't be bothered by it again.
"I am just delighted to be back playing again.
"The appendix was on the verge of bursting but didn't and I was glad about that!
"I thought I had a sore stomach and had pain in my lower abdomen.
"I had just gone home after game on the Saturday and didn't feel right. I had a fever but thought it would pass.
"It wasn't until the Monday that the doctor told me to go straight up to hospital.
"It was keyhole surgery and that has helped me recover quickly.
"The operation was pretty straightforward and went well.
"I only have three wee scars and that's it."
Meanwhile, Jordan Marshall will return from his lenghty injury absence.
Manager James McPake said: "You can never predict these things but, hopefully, that's him fit for the foreseeable future.
"He is a big part of our squad so it's great to have him back among the boys."
Andrew Nelson and Josh Meekings have trained, while Jamie Ness remains sidelined.