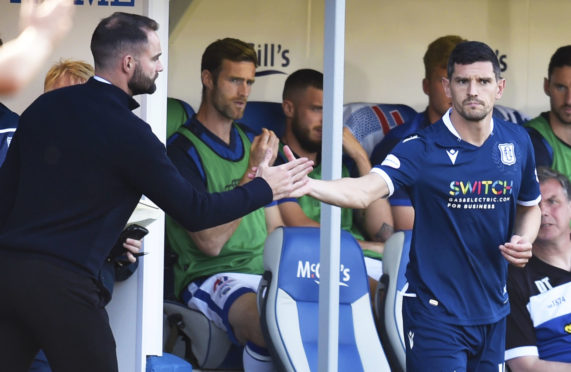 Dundee face an anxious wait to see if MK Dons have persuaded Graham Dorrans to leave Dens.
Dorrans has met Russell Martin, the English League One club's manager, for talks about a possible move to Milton Keynes.
The Dark Blues' midfielder played with Martin at Norwich City, Rangers and Scotland so the pair know each other well.
However, the MK manager yesterday appeared to distance himself from an imminent deal for Dorrans.
That would suit Dundee boss James McPake just fine as he still cautiously optimistic about keeping him.
McPake said: "MK Dons have asked to speak to Graham, which is fine and perfectly within their rights.
"Graham is having a conversation with Russell Martin and I don't think it will be the last conversation he has.
"He is meeting with them so we will see what happens.
"I am still where I was on Friday. I am still confident he will be here at the end of the window.
"Graham has been very professional and done things the right way.
"We knew when we brought him in this could happen so both parties have been open with each other.
"I think he might take his time and wait right to the end of the month and weigh up his options."
Any club looking to take Dorrans would need to compensate Dundee financially, with McPake adding: "We knew that when we signed him, there is a clause in the deal and it suits us.
"It means he can speak to other clubs but has the balance that it gives us a bit as well.
"But we would rather have him here.
"It has been a two-way street.
"He has been here helping us and we have helped him put himself back in the shop window.
"Graham has been very good for us and I don't want to lose him but we will see what comes of the conversations he has."
MK boss Martin had earlier confirmed the meeting with Dorrans but claimed the player was "not one for us at the moment."
Martin said: "I've spoken to him – he's a top player.
"Whether or not he'll come down I don't know, to be honest.
"He's signed to another club, he's done well and he's good friends with their manager too.
"I'll always be interested in him but while he's someone else's player, nothing can happen.
"He is a brilliant character and footballer.
"But he's a Dundee player and, until that changes, it's not one for us at the moment."
McPake, who has been linked with St Johnstone's Ross Callachan, admitted that if they do lose their experienced midfield man then transfer business will have to be done this month.
He said: "What happens with Graham might affect what we do in the window.
"We won't be rushing into anything.
"It is one for taking your time and seeing who becomes available.
"There are targets and we will be freshening things up but this is a window you are better just assessing everything first."
Meanwhile, Dundee frontman Andrew Nelson will today have an operation on his injured hand that will keep him out for approximately a month.
McPake said: "Andrew is getting surgery on his hand as he has a broken bone and it can't wait until the summer.
"He has been told the operation has to go ahead now so he will get it and be out for four weeks.
"It's really unfortunate because he has had a few problems but was up to speed.
"He is someone who has a lot to offer so hopefully he will be back quickly."