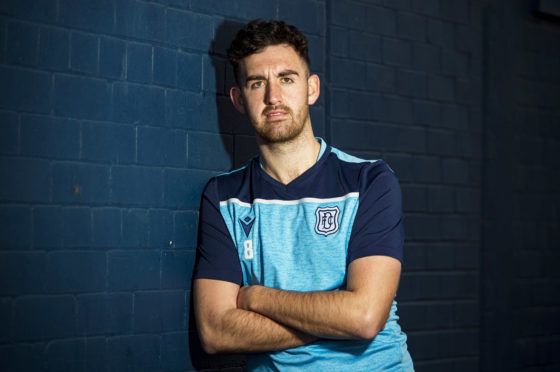 Shaun Byrne knows from personal experience that missing out on automatic promotion does not need to be fatal for a team's hopes of getting to the Premiership.
The Dundee midfielder helped take Livingston into the top flight through the play-offs a couple of seasons ago.
And the journey to repeat that trick with the Dark Blues starts against Ayr United this afternoon.
"The league is done in terms of winning it but we have the play-offs and that has to be our focus now," said Byrne.
"We wanted to go up automatically but this gives you another chance and it can happen.
"We did it at Livingston and I think the key to the whole thing is to have momentum.
"The next few months are all about making sure we are in the play-offs by winning games and then hopefully going into them in good shape.
"We need to get the confidence up.
"It's a tough way of going up but I know from personal experience it's possible.
"You need hard work and a bit of luck. That's what we had at Livingston.
"Against Dundee United that year we were not great in the first hour but then scored twice and managed to see it through.
"Then when you play the Premiership club you are on a high and they are low on confidence."
Byrne stressed the importance of Dundee ending the season as the best of the rest behind the runaway champions-elect, United.
"Finishing in second place is massive because of the schedule and that definitely helped us at Livingston against Dundee United," he said.
"They were tired and we took advantage. To go up I think you are really helped by finishing second, so that has to be the aim.
"We just have to pick up as many wins as we can and then take it from there.
"We had hoped to win the league, that's gone now and it's all about getting the spirit back.
"If we can go up through the play-offs it would still be a successful season.
"It's 100% achievable, but we have to prove it by securing the play-offs then doing it."
If Dundee could get to a play-off final, Byrne believes that being a Championship side going up against a Premiership one need not be a disadvantage.
"We went into the final game 2-1 up (against Partick Thistle) but still felt like we were underdogs and that took the pressure off us," he recalled.
"We had aimed to get to half-time 0-0 in that game because if we did that their fans would turn on them.
"Once we scored the first goal I knew we wouldn't lose it from there, even though Neil Alexander saved a penalty at the end.
"From the position we were not going to lose."
The play-offs are still a long-term goal for Byrne. The short-term one is establishing himself in the Dundee starting XI and showing the Dark Blues fans his top form.
"I know I haven't been good enough so I need to work hard to get back into the team," the ex-Dunfermline player admitted.
"I know I can do better than I have, but there is no point sitting talking about it – you just have to do it."
Dundee need to show a big improvement from a dispiriting performance against Inverness Caley Thistle last weekend.
"As a team we need to pick up, especially at home because to be a successful team you need to have a strong home record," said Byrne.
"We have to give the fans something to shout about to have them on our side.
"If things are a bit flat they will get on our backs, it's up to us to change that.
"This is a big club, it's a difficult place to play when things are not going well but you have to take that on your shoulders and get through it.
"We need to be stronger as a team.
"We are the ones responsible for getting the fans on their feet and getting them singing – we have to give them something to cheer.
"As a team we know the home record hasn't been good enough and it's something we all want to improve."