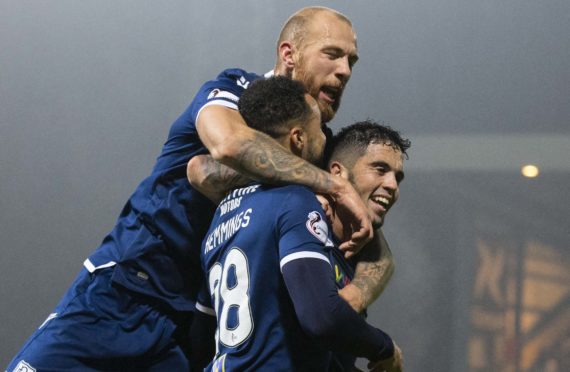 The Dundee players are starting to give Kane Hemmings the service he thrives on, according to Declan McDaid.
Winger McDaid is well aware that keeping their main striker happy will be a key part of securing the Dark Blues' place in the play-offs – and hopefully promotion back to the Premiership.
Hemmings, whose three goals in two games have secured four points for the Dens Park side, won't be slow in letting his team-mates know if the standard of delivery starts to slip, that's for sure.
"Kano has been brilliant," said McDaid. "You can tell he has a lot of quality. He has that confidence and a bit about him when he is flying.
"Hopefully he can keep it going as he is a big player for us. He was brilliant against Thistle and scored the two goals.
"There was also the goal at Morton so he is in flames at the moment.
"Long may it continue for him and hopefully the team continues to play well, creating chances for him.
"He won't be shy to tell me if I am not putting the ball in the box for him.
"He has said to me to just simplify it and if he is not there, it is his fault.
"We have been mixing it up as well and I have a good link with him.
"But as I say, Kano definitely lets me know if I don't give him the ball."
There is no escaping the tension that comes with play-off football but going on a prolonged run of wins would ensure getting into them in the first place doesn't become equally stressful.
"I played in this league last year and it is always the same," said McDaid.
"I have been saying to the lads all the time that if you go on a run of three or four games then you are right back in it. Obviously if you go the other way you are right back down the table.
"But hopefully we can go on a positive run and see where it takes us."
This certainly isn't the time for Dundee to lose upward momentum, as was the case with Ayr 12 months ago.
"I wouldn't say we ran out of steam at Ayr last season but at the start teams didn't really know us as we had just come up so they didn't expect us to be a threat," McDaid recalled.
"We were blowing teams away but then they found out more about us in the second half of the season and we had a few injuries.
"You could say it has gone the other way with Dundee this season as we have probably taken time to get used to the league and teams are aware of our threat so they have probably defended more.
"But everyone is now going for it as they need the points so hopefully it will open up more which might help us.
"A lot of teams have sat in against us this year as they know we have quality going forward.
"They have made it hard for us but as I said, teams now need to start going for wins which could suit us."
Ayr lost to Inverness Caley Thistle in the third v fourth play-off stage last year and McDaid has also suffered heartbreak when on loan at Cowdenbeath. In 2016 the Blue Brazil were relegated to League Two after being defeated by Queen's Park.
"I have a lot of experience in the play-offs," he said. "I like the structure of them.
"Obviously you want to finish second so you have less games.
"We ended up finishing fourth at Ayr and then we had two games straight away.
"At Dundee we want to take our chance to get into the play-offs and then take it from there.
"Hopefully this will be third time lucky for me."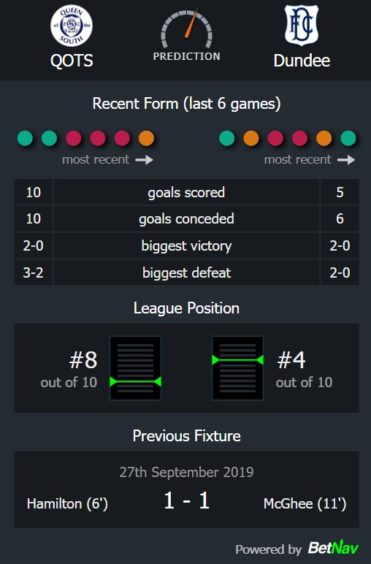 Dundee face Queen of the South at Palmerston this afternoon. They are coming off a free weekend but the victory over Partick Thistle is still fresh in the players' minds.
McDaid said: "It was a good performance and the new shape worked well.
"We were comfortable in the game and it was a great result. You probably want another game the next weekend when you have played like that.
"But we have prepared well and we are ready to go again on Saturday against Queen of the South.
"To be fair there are a few new faces so the break has given us a bit more time to gel in training.
"The lads are looking good and there is a great feeling about the place again. So we just have to keep it going now and try to get on a run."