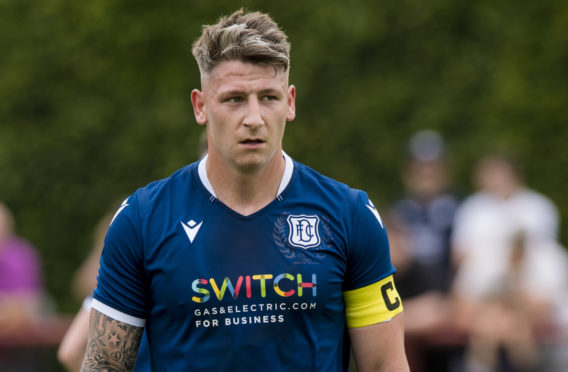 Arbroath are only a part-time team.
But Dundee skipper Josh Meekings says preparing to shackle them has been a full-time job.
The Dark Blues are aiming for a third consecutive win when the Red Lichties come to Dens Park tomorrow.
Three points would lift the home side five clear of their opponents, who have defied their part-time status with a string of magnificent results.
But Meekings insists nobody in Dark Blue will be taking the Angus underdogs lightly.
Asked whether he felt Arbroath could reach the play-offs, the Dundee defender said: "I don't see why not. They have a lot of quality and players who could potentially play at a higher level.
"Perhaps they choose not to. They might have good jobs as well as playing football, but it is credit to them.
"It has been a good season for them and I don't see them coming off the rails or anything. They are where they are for a reason.
"They have done really well this season. They have made it very difficult at their place and when they go away, they are just as good as well.
"So we have to be ready but that's the same with any team in this league. We have found out how tough it is.
"There are some good sides and teams that make it difficult for you to play.
"But it is about us taking care of our own business now and if we do that we should get the three points."
Former Dee Craig Wighton's return to Dens has been at the centre of the pre-game narrative around tomorrow's clash.
Given the striker's historic exploits in dark blue, that's hardly surprising.
Meekings went through an extensive injury rehabilitation period alongside Wighton whilst they were teammates at Dens.
So he, more than most, knows the depth of mental strength his old friend has to draw upon.
Meekings said: "I get on with him really well and I think Craig has been a good signing for Arbroath. It was a big statement from them.
"We know all about Wighty. We know what he brings and he is a threat.
"We will have to keep him quiet if we want to get something from the game.
"When we were doing our rehab together, he had never really worked in the gym before but when he came back everyone was like, 'Wow! Look at the size of him!'
"That showed how hard he worked though. It can be dark times when you are injured but he has come back from that.
"It will be interesting to see him at the weekend."
"Interesting" would be one way to describe the Dark Blues' campaign as a whole.
Meekings' assessment is more to the point.
But he remains convinced that Dundee can finish strongly – and secure the play-off place they have been flirting with for months.
Meekings said: "The season has been up and down. I think sometimes we have put ourselves in a place where it has been too negative.
"We have become stuck in little ruts and they have continued longer than they should have.
"We were losing two or three games and we can't afford to let that happen again with the end of the season coming if we want to do what we were planning to do.
"So it is just a case of trying to be as positive as we can. I have always said that everybody is working hard.
"I have great faith in the manager and the whole dressing-room.
"I think everyone does and it is just about taking it onto the pitch. I do believe we are in a better place and are moving forward.
"But we have to keep that going and I can't stress that enough.
"We can't afford to collapse or lose any momentum and that's on us – it's on our shoulders.
"We are not where we were wanting to be at the start of the season but to get where we want to go now, we have to push on and finish strongly."