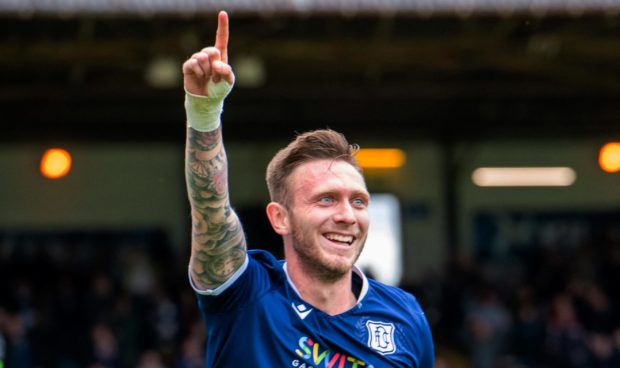 Dundee's Jordan McGhee wants to get a grip on a promotion play-off spot after putting his injury agony behind him.
McGhee had surgery to reshape his wrist after suffering a break during a pre-season match at Brechin.
He played on for months before eventually going under the knife to repair the damage.
It got so bad at one stage that McGhee struggled to hold his own child.
There was a threat of arthritis in later life and he was even hearing strange noises coming from his arm when he moved it.
A successful op has sorted him out, though, and he played 70 minutes of the Dark Blues' goalless draw with Alloa at Dens on Tuesday night wearing a cast to protect his arm.
Now McGhee is targeting a play-off spot ahead of the double-header with Ayr United, with a game against the Honest Men at Somerset Park today followed by a return clash at home next Tuesday.
He said: "It is healing well and I get the cast thing off in two weeks' time.
"I fell on my arm in a pre-season game against Brechin. It felt really weird and weak, and was sore when I was doing weights in the gym.
"I was sent for a scan and it showed the scaphoid bone had broken. My wrist had twisted round out of position.
"I had to play with that for a while and, sometimes when I moved it, I could feel it clicking and hear noises as well.
"It felt weird when you were grappling in the box and when I was back home trying to pick my wee girl up.
"She is getting to the age now where she is wants lifted up and it was difficult," added McGhee.
"But thankfully we got it fixed so there are no further complications down the line like arthritis.
"The longer you leave the scaphoid bone, the blood supply can get cut short. You don't want that as the bone ends up rotting and dying but thankfully it is a lot better now.
"The club were great with me and sent me to see the top people.
"I initially saw someone in Scotland and they said I would be out for three months but then I went to a specialist down in Manchester and he said he could get me back in three weeks, which was music to my ears.
"We just then had to pick a date that suited everyone and we got it done when there was a break in games.
"It has a big screw in it but hopefully that is it sorted for a while now. It has worked out well."
After his own personal battle with the injury, McGhee knows his club faces a serious challenge in these two quickfire games against Mark Kerr's men, who currently sit two points above them in third spot in the Championship table.
He said: "These matches are massive, especially against a team which is around about us.
"They are must-win games. We have been saying it all season but it is coming to crunch time now.
"The boys have reacted well in recent weeks and we are four unbeaten now so we have to take that into the game down there and again here on Tuesday."
The Dark Blues dominated possession against the Wasps last midweek and had a barrowload of chances that they couldn't take.
It was a novel experience for McGhee to see such a one-sided match finish goalless.
He added: "We watched the video back and I think there are about seven or eight minutes of chances alone.
"That never happens in video analysis and I have never experienced a game like it in my life.
"It was just waves of attack but, fair play to Alloa, they dug deep and got the point.
"Our fans reacted positively at the end and that was massive for us.
"The players were talking about it after the game, saying how good they were sticking with us especially with the situation we are in."
McGhee played in midfield against Peter Grant's side and, if asked to do so again this afternoon, then he will be happy to oblige.
He said: "I enjoyed it and it was good to play in there.
"I feel comfortable in there, especially next to Graham Dorrans and Shaun Byrne.
"I played in midfield when I was younger but then my height took me to centre-back. Eventually I wasn't big enough at Hearts so I got moved all over the place.
"I then got put to centre-back again and I enjoy playing there but, like I said, I also enjoy midfield."