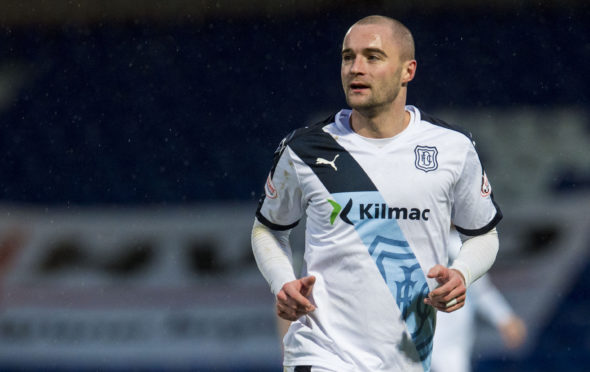 Dundee manager James McPake has opened up on the extraordinary lengths he went to in a bid to battle through an injury that threatened to ruin his playing career.
A crippling back problem saw the former Dark Blues, Livingston, Coventry and Hibs defender take diazepam on a Thursday and Friday just to play at the weekend.
He eventually sought help from a surgeon who had operated on Andy Murray and recently advised Tiger Woods.
McPake, 35, told the Evening Telegraph's Twa Teams, One Street podcast: "I was really struggling at Hibs and I couldn't train too much in certain spells.
"On international breaks, or any break in the season, I'd go to London for a back injection.
"I was taking diazepam on a Thursday and Friday to play in a game.
"People listening to this will say, 'He couldn't be doing that, that's not right'.
"But it came from a top surgeon telling me to do that because it'll relax the muscles and stop it going into spasm.
"That surgeon's since operated on Andy Murray. If you look him up, he was out being a consultant to Tiger Woods just last year.
"He knows his stuff. That's why we listened to him.
"I did that probably for a spell of maybe nine months. I'd do it after training on a Thursday, then on a Friday night and play on a Saturday.
"Then I was thinking, 'What's this going to do to me going forward?'"
McPake joined Dundee after his release from Hibs in the summer of 2014.
But he was forced to retire three-and-a-half years later because of a horror knee injury suffered after a tackle on John Rankin in a Dundee Derby win over United in January 2016.
The Dee boss – taken to Ninewells Hospital following the incident – recalled: "I think I probably knew [it was over]…not right away because there's adrenalin but pretty quickly.
"In the ambulance I kind of knew that was me.
"I can remember, for some reason, Dawn [wife] was at the game. She came in the ambulance with me.
"I can remember her asking the paramedic, 'Will he walk again?'
"I'm thinking, 'Calm down, it's just a tackle, it's an injury and I've had injuries before'.
"My mum came up the next day – she'd never seen me playing.
"The doctor or surgeon came in and she asked, 'Is he going to be able to walk again?'
"I'm getting déjà vu. I don't know if it was the drugs or something. But I'm like, 'Are these two being serious?'
"I think it was only then that it sunk in that it must be bad.
"I watched the tackle back again, I got it sent to me.
"I thought, 'That's me, I can't see a way back from this'."
He added: "Do I regret the challenge? Yeah because arguably I could say if I didn't go in it, who knows what could've happened?
"Also, if I didn't go in it, would I be sitting here as the Dundee manager? I very much doubt it.
"There are two ways to look at it."
McPake – whose side are third in the Championship after six matches unbeaten and five clean sheets in a row – is enjoying life in the Dee hot seat after being appointed last May.
He said: "Similar to Hibs, I didn't realise how big they [Dundee] were – and how big the local rivalry was – until I joined.
"I remember going up [to Dens Park] and Paul Hartley saying, 'We want to be better than them down the road'.
"I thought this is going to be good, this is like Hearts and Hibs again."
Coincidentally, the debut goal of McPake's professional career was playing in attack for Livingston against Dundee in a 1-0 win in 2004.
He said: "I wasn't great as a striker, I'll admit that. Subconsciously [playing up front] it probably did help me though [as a defender].
"As a striker I was good at the same things I was good at as a centre-back – tackling and heading the ball.
"I was quick at one point believe it or not. By the time I came to Dundee I'd lost a wee bit of pace, or some will say a big bit of pace."
EXCLUSIVE: Former Dundee captain Gary Harkins insists Dark Blues should be a top-six Premiership club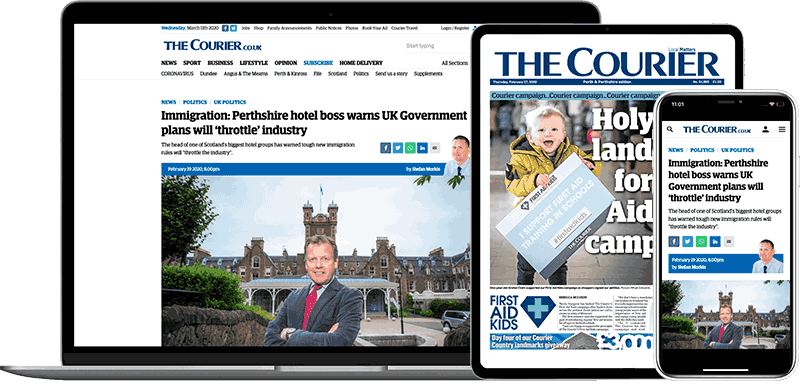 Help support quality local journalism … become a digital subscriber to The Courier
For as little as £5.99 a month you can access all of our content, including Premium articles.
Subscribe